Eric Norberg, Editor & Gen. Manager
Brian Monihan, Publisher
Sandy Hubbard, Independent BEE
Advertising Representative
Molly Filler, Page Design
Jaime McCaslin, Accounting

Eric Norberg: Sandy Hubbard:
503 / 232-2326 971 / 407-7942
fax: 503/232-9787

"Community Classifieds" want ads: 503/620-7355
Circulation/subscriptions: 503/620-9797
Accounting/Billing: 971/204-7712
Community Newspapers, Inc.

Editorial and Sales Address:
1837 S.E. Harold St, Portland, OR 97202-4932
Remit bill payments to:
Accounts Receivable Department
P.O. Box 22109, Portland, OR 97269-2109

e-mail: ReadTheBee@myexcel.com



THE BEE IS LOCALLY OWNED BY THE PAMPLIN MEDIA GROUP
December, 2021 -- Vol. 116, No. 4
Scroll down to read this issue!

Memories of THE BEE's first 100 years!
In 2006, THE BEE celebrated its centennial of serving Southeast Portland! A special four-page retrospective of Inner Southeast Portland's century, written by Eileen Fitzsimons, and drawn from the pages of THE BEE over the previous 100 years, appeared in our September, 2006, issue.
Click here to read the special centenary retrospective!
_________________________________________
BEE SUBMISSION AND AD DEADLINES
Next BEE is our Pre-Christmas/Jan. issue, with a deadline of December 2.
(The February issue has an ad and copy deadline of January 17.)
INTERESTED IN ADVERTISING? CLICK HERE FOR RATES AND INFORMATION!
____________________________________

Want to subscribe to receive the PRINT version of THE BEE in the mail?
E-mail circulation@CommNewspapers.com -- or telephone 503/620-9797, during weekday business hours.
The 12-issue annual subscription rate is $19 per year for addresses located in Multnomah County, Oregon; and $29 for anywhere else in the U.S.(it's based on the differential postage rates for our class of postage). For international rates, inquire via the e-mail address or telephone number just above!
_________________________________________________________________________
Daily news!




The Portland Tribune is updated a number of times every day, to bring you the latest news of the Portland area and Oregon.

Click on the banner at left to read the Tribune online!



THE BEE has a second website -- searchable for past stories. The content for the current month includes what is on this one, presented in a different format.

To visit our newer website, click the banner at right!




GDPR NOTICE: The owner of this website, www.ReadTheBee.com, collects no information on this site from any reader, and never has.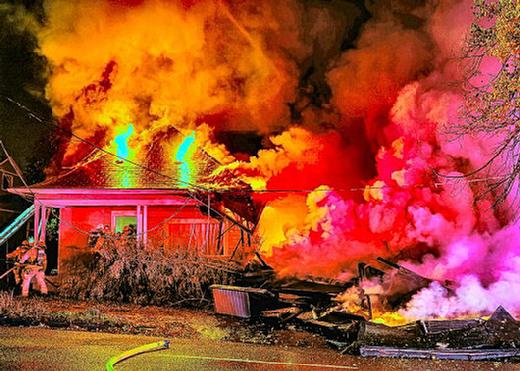 Just before this two-alarm fire was declared to be a "defensive" battle, firefighters were at the door of the burning unoccupied building on S.E. Powell Boulevard near Cleveland High. (PF&R image)
By the light of day the following morning, it was clear that the burned empty building had been reduced to smoldering rubble – and that the other structures nearby were also damaged by the blaze. (Photo by David F. Ashton)
Two-alarm fire across from Cleveland High
By DAVID F. ASHTON
For THE BEE
A driver on S.E. Powell Boulevard, early on Sunday, October 24, saw flames leaping from an abandoned building just west of 28th Avenue, across from Cleveland High School, and called it in to the 9-1-1 Center.
As Portland Fire & Rescue (PF&R) crews were being dispatched at 2:31 a.m., two minutes later, a passing AMR ambulance radioed in, "There's a house that's fully involved in fire on the southeast corner of 28th and Powell – and the house behind it is catching fire as well."
Four minutes later, Central Precinct officers were dispatched with orders to completely close down Powell Boulevard to traffic, as the fire equipment began to arrive. Shortly after the initial dispatch, a PF&R Battalion Chief on his way to the fire, told dispatchers to add an additional Engine and Truck Company to the incident.
A crewmember riding Rescue 21, the two-person rig stationed on S.E. Powell Boulevard at Milwaukie Avenue, radioed in, "The structure is fully involved [with fire], raise this incident to 'two alarms'."
The first Engine Company arriving came from Woodstock Fire Station 25 on S.E. 52nd Avenue. Within minutes, other engines and trucks arrived, ultimately bringing 84 firefighters to the scene.
Upon his arrival, the PF&R Battalion Chief commanded, "Defensive attack" – meaning that no firefighters were to enter the fully-engulfed structure, due to its loss of structural integrity.
The crews worked through the night, and long past dawn, to put out the fire and then make sure there were no remaining live embers.
"The unoccupied structure on S.E. Powell was a total loss; the occupied nearby residences to the east and south were damaged by the fire," a PF&R official told THE BEE.
Later that morning, neighbors told news reporters they'd heard a "loud explosion" of some sort in the house, just before the fire started.
So far, PF&R Fire Investigators haven't revealed the cause of this blaze, or a dollar figure for the loss; but the fire is still under active investigation.
---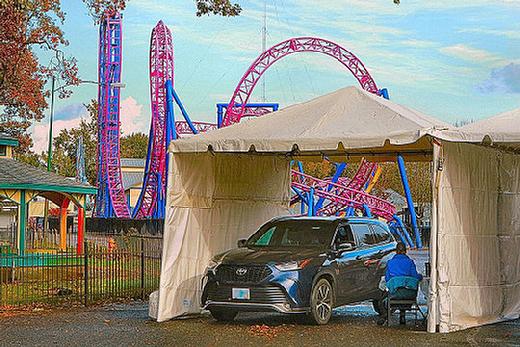 With the Oaks Amusement Park Adrenaline Peak roller coaster in the background, another family signs in at this pediatric mass COVID-19 vaccination drive-through clinic, put on by the Sellwood Medical Clinic. (Photo by David F. Ashton)
They're having this clinic as a service to their community, explained Sellwood Medical Clinic's co-owners – Monique Pritchard, MD, and CEO Lisa Whitlock. (Photo by David F. Ashton)
COVID-19 drive-thru 'Mass Vax' kids' clinic held at Oaks Park
By DAVID F. ASHTON
For THE BEE
Although historic, non-profit Oaks Amusement Park had just closed for the season, their southern gate was open and large canopies were set up in the parking lot, November 5th through 7th.
This was the setting for the first "pediatric mass COVID-19 vaccination drive-through clinic" to be held in our area.
"We at Sellwood Medical Clinic are super excited to offer this to our community," said their CEO, Lisa Whitlock, at the event. "Oaks Park has been a phenomenal partner in facilitating our ability to provide this service.
"The idea to do this came up because we have a large pediatric population that we serve," Whitlock told THE BEE on the first day of the drive-by vaccinations. "We were looking for ways of serving more people and families than we could possibly do in our own back parking lot; so I reached out to Oaks Amusement Park, and they responded, 'yes, absolutely' to our request."
Their allocations of the newly-approved pediatric COVID-19 vaccine, via the State of Oregon, were minimal, Whitlock conceded; but with their allotment the drive-through clinic gave 1,200 shots to kids over the three days.
'Sold-out' in minutes
Being set up to give about 25 shots every 20 minutes, they first opened slots for appointments for Friday, November 5; those were snatched up in minutes. They waited a few minutes before opening more appointment availabilities for Saturday and Sunday. "Amazingly, all 1,200 spots filled in less than 45 minutes!" Whitlock exclaimed.
"This is important from a medical standpoint, because the more kids – ages five through 11 – that we can get vaccinated, the more we can lower the overall cases, and lower the severity of the illness that's being seen," chimed in the clinic's co-owner, pediatrician Monique Pritchard, MD.
"We want to see all kids back in school, and staying in school, without so much worry about exposure, because they've been vaccinated."
Overall, most of the kids bravely took the poke, and then their parents drove off into the "waiting lot" for a few minutes, to be checked out and sent on their way.
To learn more about the Sellwood Medical Clinic, and to check to see if more such drive-by vaccine clinic opportunities will become available, check their website – http://www.sellwoodmd.com
---
Pete Parsons, forecaster for the Oregon Department of Forestry, made one of the most interesting comments of the conference: "There's currently more arctic ice at this point of the year, than any year in two decades. This could give us more interesting weather this winter than would otherwise be the case." (Photo by Eric Norberg)
Upcoming winter: Wetter, or perhaps dryer, say experts
By ERIC NORBERG
Editor, THE BEE
The "29th Annual Winter Weather Forecast Conference" of the Oregon Chapter of the American Meteorology Society took place online again this year. But, with luck, next year it will return in late October to the auditorium at the Oregon Museum of Science and Industry – OMSI – back where it belongs.
THE BEE is there every year, and needless to say we are always very interested to hear what each upcoming winter will be like.
This year, as is the case every year, the conference started with a recap of the previous winter by Mark Nelson of KPTV-12. He pointed out that it was the warmest winter in 70 years in Western Oregon; but that what we all remember of it are five stormy days in mid-February which gave us rain, snow, and ice – sinking dozens of boats at the marina near the Sellwood Bridge, and causing building collapses – notably, both gyms at Reed College. He also reminded us that 2013 was the last time we had a "wintry blast".
After the recap there were detailed and illustrated talks on the subject of the upcoming winter by five forecasters – Rebecca Muessle of the National Weather Service office at the Portland Airport; Pete Parsons, onetime local TV weatherman and these days the forecaster for the Oregon Department of Forestry; Kyle Dittmer, of the Columbia River Intertribal Fish Commission; Tanis Leach, who is still an OSU student and is the President of the AMS branch at the University; and Charlie Phillips, meteorologist for Puget Sound Energy in Seattle.
Of those, Rebecca Muselle of the National Weather Service and Charlie Phillips expected a cooler and wetter than average winter here, and an ample Cascades snowpack; Phillips added, "we are very unlikely to see a repeat of last year's record-dry spring." On the other hand, Pete Parsons and Tanis Leach both expected less precipitation than last winter, but both agree there should be plenty of mountain snow. Pete Parsons seemed to think that the City of Portland might turn out to be an outlier in his general forecast, and have higher than normal rain. Nobody seemed to expect a big windstorm, but Parsons and Leach thought a "wintry blast" could be a possibility.
In addition to expecting a lot of mountain snow this winter, all five forecasters agreed that this would be a La Niña year, like last year – and that the La Niña should be a stronger one than last year. But, as you've noticed, just what that actually means for the upcoming weather was not as unanimous. Portland snow? Some thought it a possibility.

They all agreed that La Niña years allows for a lot of variability; so there you are – you may well find a variety of weather confronting you this winter, but perhaps nothing particularly extreme. Have a nice winter.
---
Benji the kitten, here with his new family, Foster-Powell residents Richard Potts and Suzanne Lapidus. The couple called twenty veterinary clinics before finding one that could take the kitten as a new patient – with a wait of at least two months for neuter surgery. (Photo by Paige Wallace)
Local veterinarians struggle to meet pet care demand
By PAIGE WALLACE
For THE BEE
For Benji the stray kitten, finding a forever home was easy. In mid-October he walked up to a house in Portland's Foster-Powell neighborhood and mewed plaintively. That family rescued him; and then the couple next door adopted him.
However, the next step of Benji's kittenhood stands as a warning to pet owners across Inner Southeast Portland.
"I was shocked," said Richard Potts, Benji's new owner. Potts and his partner, Suzanne Lapidus, began calling nearby veterinary clinics on October 15, one day after the little orange tabby moved in. They were looking to get him vaccinated and neutered. When that seemingly simple request proved problematic, they started calling clinics further away from home.
"I called eight places in Portland, and twelve places in Vancouver," Potts said. "The more I called the more I realized – this is a disaster right now." Only three of those clinics would take Benji as a new patient. Neutering would have to wait at least two months, and one clinic said they couldn't do the surgery until April.
It turns out, waiting for veterinary care is the new normal in Inner Southeast Portland.
Area pet owners and veterinary facilities are caught in a vicious cycle of delays, according to vets and staff from multiple local clinics. Many of them are so busy they're booking appointments months out, even for established patients. Some are not taking new clients at all.
"People are getting new kittens and new puppies – every week – and have no idea what they're heading into, as far as vet care," lamented Wendy Stilwell, who manages Sellwood's Cat & Dog Hospital of Portland. Because of the high demand, she now spends the first few hours of every workday telling callers there are no immediate appointments available. "It's just so sad that we have to turn away someone who is so worried about their animal, and they can't seem to get in anywhere. It's horrible. It's just horrible."
"People are literally calling from clinic to clinic to clinic to clinic, trying to find someone that can take them," agreed Dr. Alayson Phelps, veterinarian and owner of Brooklyn Yard Veterinary Hospital on S.E. Holgate Boulevard. She said her facility is not taking new clients until after the first part of the year because the demand for appointments exceeds what her staff can provide in any given day.
Powell Veterinary Center, both the Powell Boulevard and Westmoreland locations, states the same situation up front, in its voicemail greeting: "We are unable to accept any new clients, currently."
That same phone message also asks established clients to please call back in 2022 if they're looking to schedule routine care. That's the other problem, vets say: The backup affects even existing clients whose pets are due for vaccinations or wellness checkups.
Stilwell said her clinic is scheduling four to six weeks out. Brooklyn Yard's website tells clients to expect a six to eight week wait. Emily Hamilton, receptionist at Moreland Veterinary Hospital on S.E. Milwaukie Avenue just south of Bybee, said she's already booking routine appointments no earlier than mid-December. To accommodate the demand, her co-workers are putting in extra hours, fitting patients into early morning and post-closing time slots. "We want to be able to see and help as many animals as we can, so we're having 'relief vets' come in, and are double-booking ourselves – and also having vets come in on their days off."
Phelps, at Brooklyn Yard, said scheduling routine care appointments further out means she can still fit in pets with illnesses or injuries that require immediate attention. "For things like vaccines and preventative wellness care, we have just a little bit more 'wiggle room' to push those things out a couple of months."
Emergencies are the most problematic situation right now, local vets agreed. Overbooked clinics here in Inner Southeast Portland often have to turn away injured pets. "We're sending people to DoveLewis, where it's not uncommon for waits to be 18 to 24 hours long, and sometimes even more," said Phelps, remarking how heart-wrenching it's been to turn away patients she was trained to help.
Each pet care provider interviewed for this story expressed exhaustion and sadness that the current situation is so difficult for their clients, their staff, and the pets they all love. "We do not like saying no. It's really, really difficult for us," Phelps added.
Veterinary caregivers cite multiple reasons for the delays, many that built up over the pandemic. For instance, curbside appointments, where pet owners wait in their vehicles while vets examine the animals inside the clinic, requiring extra time and communication. Some clinics are still relying on these types of appointments, while others are again allowing humans to accompany their animals inside, now that COVID restrictions are waning.
Hamilton notes a lot of Portland pet owners limited their trips outside the home during the pandemic. Their animals got behind on routine veterinary care; so now there's a rush to catch up. Meanwhile, new people to the area have been calling to establish their animals with a local vet. On top of that, pet adoptions and purchases remain robust. "It's like a COVID puppy baby boom! Which is phenomenal," Hamilton said – in terms of rescuing unwanted animals – but it adds to the already-high demand for veterinary care.
Staffing troubles were the most commonly cited reason for the current backlog. As Potts scrambled to find somewhere to take Benji, clinics often apologetically explained that they recently had vets or techs leave their practice. Stilwell and Phelps mentioned the current industry-wide shortage of support staff – especially, trained veterinary assistants.
"Veterinary industry people are exiting in droves. It's been a very stressful 18 months in this field," Stilwell explained. She has seen a significant uptick in confrontational behavior directed toward staff, at her clinic and throughout the industry. "If you get an abusive client every couple of months, it's definitely tolerable, but when it's happening every week, staff is already pretty burned out, and it just really takes its toll." She asked for everyone to go easy on the people working at vet's offices, because they're dealing with a lot right now, and they really do want to help.
"Everyone's doing the best they can," Phelps agreed. "Thank your veterinary professionals and support staff, and be kind to those who answer the phones."
Local veterinarians and their teams tell pet owners not to stress out about the current troubles, but instead simply plan ahead and be prepared for emergencies. They offered a wide variety of advice about how to ensure your pets – or future pets – get the care they need. See the box appearing with this article for their suggestions.
As for Benji the kitten, he was finally able to get in recently for his shots and neuter surgery at Mt. Scott Animal Clinic, in the Lents neighborhood, thanks to someone else's last-minute cancellation. Potts offered three suggestions to other pet owners seeking veterinary care in this current climate: First, get on the cancellation list at several different clinics. Second, if you know you'll be taking in a new pet, schedule their initial appointment long before you bring home that new family member. And finally, this bit of advice: "If you take in a stray? You'd just better be prepared to wait."
How to care for your pet in a veterinary crisis
Veterinary hospitals across inner Southeast Portland have struggled to serve all the pets that need care during the COVID-19 pandemic. Animals may wait weeks or months to get an appointment. Here, local experts offer recommendations to ensure your dog, cat, or other companion animal can access both the routine and emergency care they need.
"Plan ahead. Don't expect to get in tomorrow at three." – Wendy Stilwell, Cat & Dog Hospital of Portland
"Even if your pet is totally healthy and there are no medical issues, call and get on the books for early 2022. Because if you do end up with an issue, it's going to be far easier to get you in somewhere you've been seen before." – Dr. Alayson Phelps, Brooklyn Yard Veterinary Hospital
"Don't hesitate to ask questions before things get bad. We're always here to answer the phone. There's no such thing as a stupid question." – Emily Hamilton, Moreland Veterinary Hospital
"Please be kind and patient with our family, as we are doing our best to help your pets." – Phone greeting at Powell Veterinary Center
"Keep a list of emergency hospitals around the Portland area, not just in Portland proper, so if you do have an emergency, you do have numbers to call." – Wendy Stilwell, Cat & Dog Hospital of Portland
"Stay on top of your vaccines, and book early. Think ahead. Our pets are depending on us! So it's good to work on preventative care as much as possible." – Emily Hamilton, Moreland Veterinary Hospital
"My advice is that is that if you have the opportunity to adopt, and the pet may already have been neutered or spayed and had their shots – you're going to be so much further ahead." – Richard Potts, veterinary client – after learning it could take as long as six months to schedule a neuter surgery for his new kitten
Comments? News tips? Click here to submit!
Trying to remember or locate a BEE advertiser? Click here to e-mail us, and we'll help!
Fair warning: We have so many great photos on page 2 this month, it may take a while to load on slower connections! If that applies to you, click the link below, then go get refreshment, come back, relax, and prepare to enjoy what we have for you on page 2!
READY TO TURN TO PAGE 2 -- FOR "MORE NEWS"? Click here!
Note to readers: At some point, this, our original Internet website, will be replaced at this web address by our new website, as part of the Community Newspapers group. At that time, you will still be able to access this long-established and smartphone-friendly website, if you save this address:
www.readthebee.mobi
. You'll still have your choice of which one to visit!

Entire contents © 2021, THE BEE; all rights reserved.