Community Features
The "Events and Activities" for the month are below these featured stories!
---
This early map of Westmoreland reveals its first subdivisions and additions before most streets were yet named there. Those who are new to the neighborhood may be able to find where their house might have been -- or learn about what their street was once named – from this map. (Courtesy of City of Portland Archives)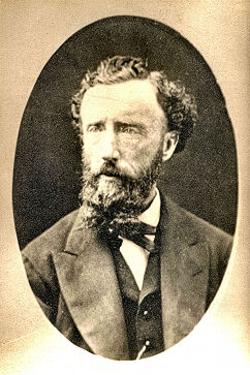 Captain George Flavel was a seafaring man, active in trade in Portland in the 1850s. While he became one of Oregon's most prosperous ship captains, and lived in a mansion in Astoria, a street was named in his honor in Westmoreland – it now extends eastward across the entirety of Southeast Portland. (Courtesy Clatsop County Historical Committee)
SOUTHEAST HISTORY
Inner Southeast street names, and the history behind them
By DANA BECK
Special to THE BEE
How often have you have wondered who named the street that you live on? Or have driven or walked by Harold Street, Bybee Boulevard, or Lexington or Yukon Streets and pondered about the source of that name on the street sign.
The secrets that street names can tell you about your neighborhood often reveal the character of the people who were the early decision-makers in our communities.
Unlike today, when the ceremonial renaming of a street or park can be a major ribbon-cutting event, in the early days of our community few records were kept on how and why a name was chosen. Street-naming was left entirely to the real estate companies who created a subdivision, or the owners who platted an area and began selling lots in it for a profit.
In 1882, when the Sellwood Real Estate Company began leveling the ground and establishing lots for a new town, Sellwood, somebody had to name the streets. Following informal City of Portland practices of the time, numbered streets ran eastward, starting from the Willamette River; and named streets ran north and south. We do not know who chose the street names when Sellwood was first platted, but there did seem to be some idea of honoring Native Americans and historic figures of the American West.
Ochoco, Clatsop, Umatilla, Tenino, Tacoma, Spokane, and Nehalem Streets were the names chosen by officials of the Sellwood company to recognize some of the Northwest's Native American Tribes. And, while residents today can take pride that their community honors Native Americans as a part of Sellwood history, interestingly whomever chose the names missed a few tribes that really should have been included.
For thousands of years the people of the Kalapuyas, Upper Molallas, Clackamas, and Clowewalla tribes hunted our Inner Southeast area, and harvested berries up and down the Willamette Valley, including where the town of Sellwood was established.
Other street names of the time remind us that America loves its heroes – especially those who fought in the Civil War, and those who took a part in the taming of the Americans Wild West – and our streets reflect that. Marion and Harney Street are two such: Harney Street is named after General William Selby Harney; his personal history included fighting Native Americans in the Seminole Wars of 1830, and a brief stint of service during the Mexican War of 1847. In his Northwest escapades, Harney was responsible for almost starting another war against Great Britain in 1859 -- most visitors to the San Juan Islands know the story about the famous Pig War
But, since Southeasat Portlanders may not know it, here it is. On June 15th, 1859, an American shot and killed a pig belonging to the Hudson's Bay Company. When the British authorities threatened to arrest the offender, and evict all Americans living on the island, Brigadier General William Harney was sent in to settle the matter. Instead of solving it, Harney made the situation worse -- which almost led to another war between Great Britain and the U.S. Thankfully, cooler heads prevailed – the U.S. Army's General Winfield Scott was sent in by President James Buchanan to negotiate a solution, and Harney was relieved of his command! But we still have his street.
Francis Marion had a much more successful career, but nothing related to Oregon History. Francis Marion, after whom Marion Street was named, was a commander of rebel forces in South Carolina against the British and American "Loyalists" during the Revolutionary War in 1776. Marion was so creative and elusive in attacking and eluding the regiments of the English Crown that he was dubbed the "Old Swamp Fox". A street and an Oregon county are named after him.
Which brings us to Sherrett Street, south of Tacoma Street, between Clatsop and Harney. During the creation of Sellwood, what is now Sherrett Street was originally named Central Street – which might have suggested that planners thought this would be where the commercial district would be established. But Umatilla, Spokane, and Harney Streets turned out to be the only three roads extending down to the east bank of the Willamette River, so as to have ships and boats land there.

In 1901, eight years after the town of Sellwood was incorporated into the City of Portland, the City Council changed the name of Central Street to Sherrett. As to that choice of name, history writer and journalist Eugene E. Snyder, in his book "Portland Names and Neighborhoods", asserts that a local builder in the Brooklyn neighborhood named Daniel T. Sherrett, was the person for whom the street in Sellwood was named.
North of Nehalem Street, The City View Racetrack – once a major draw for residents of Downtown Portland – was declining in popularity and use, and speculators were wanting to change the dusty horse track into a new high-class residential development.
As the east side of Portland began to grow, real estate speculators and agents began to invest in property which could later be turned into subdivisions. Hundreds of subdivisions and additions still can be found inside Portland's city limits – it's why streets still jog, or even inexplicably stop, in various places in Inner Southeast. Some developments were as large as the Ladd subdivision of 1891, involving 128 acres; or the Laurelhurst subdivision of 1909, which consisted of close to 400 acres.
But, north of Nehalem Street in Sellwood, most such tracts of land were small in size – a few blocks or maybe an acre of two. The P.J. Martin tract, and the John Tolman, Crystal Springs, and Midway Additions were just a few of the small developments involved in the early history of what is now called Westmoreland.
Investors who owned acres of land in Southeast typically developed it for families wanting to move away from the busy life of Downtown Portland, and were looking to settle here. Once the demand for more housing was established, it was time to call in a developer and began platting lots and naming streets for the new homes to soon be built along the tract.
Naming streets after types of trees and flowers was at one time particularly popular. By 1893 the City View Park Addition (where the racetrack had been) became a nine-block subdivision which included the street names of Ash, Maple, Locust, Laurel, Cedar, Pine, Chestnut, Oak, and Park Avenue.
In 1891, East Portland and Albina were consolidated, and city officials found themselves barraged with duplicate street names. There now twelve "A" Streets, twelve "B" Streets, and twelve streets listed as "First" Street in Portland. It was a postman's nightmare, when it came to delivering the mail.
And so began the great renaming of streets in Portland! Sellwood was added to that list needing new street names in 1893, when it was annexed into the City of Portland.
By 1904 the Portland City Council resolved to get rid of all the duplicate names, and changed the streets in the City View Division. Park Street was changed to Malden, Oak to Rex, Cedar to Ogden, Maple became Glenwood, Ash was now to be called Claybourne, and Laurel became Rural Street. But the question remains, who were these streets renamed for? There are no notable patriots or other historic places that come to mind associated with these names, so we can't be much help with that.
Locust Street was changed to Bybee Boulevard – named for Ella E. ByBee, who owned a small section of land on the Southeast corner of today's curve at Portland Memorial – at Bybee and 13th Avenue. Pine Street was now Knapp, renamed for Richard B. Knapp and his wife Minnie, who owned a section of land nearby.
In the mid-1850's, Portland was a busy port town, and ships came and went. Many sea captains became well-known in Portland. With such influence among the businessmen and City Council members, seafaring captains like John H. Couch, William Irving, and John C. Ainsworth are now immortalized in the names of Portland streets.
George Flavel, born in Norfolk, Virginia, in 1824, became a sea captain – and spent his early years in the 1840's era piloting ships up and down the Columbia and Willamette Rivers from Portland to Astoria. Captain Flavel made many voyages to the port of San Francisco, but he preferred to spend his "down time" in the Oregon coastal town of Astoria.
Captain Flavel built an elaborate Queen Anne mansion in Astoria at the corner of 8th and Duane Street. Visitors to that town can still tour the Flavel House Museum, which is owned and operated by the Clatsop County Historical Society. Apparently, someone on the City View Board of Trustees was quite impressed with Captain Flavel, inasmuch as the street once known as Chestnut in Westmoreland was changed to Flavel Street in 1886.
Southeast Portland streets named for people or places can be traced in various ways – by turning through endless pages of newspapers, reviewing history books, or finding a clue in dairies left by Oregon Pioneers. Or you might try giving Kurt Miller a ring.

For many years, the Miller Family has been a part of Sellwood history. As a fourth generation descendant of Henry Miller, Kurt Miller relates that his great grandfather was one of the original pioneers who traveled the Oregon Trail – and he settled in Milwaukie, Oregon, after finishing the epic journey from his homeland in Germany.
Henry was hired to manage the William Meek and Henderson Luelling orchards. Five years later, Miller and his young partner Joseph H. Lambert offered to buy a section of William Meeks' investment. As both men struggled to continue the orchard's prosperity, they began thriving in the nursery business – by selling seeds, bulbs, rare plants, and trees. Miller excelled, specifically, in the new floral market.
Henry's eldest son Arthur was deeded forty acres by his father, and he came to live in Sellwood at 16th and S.E. Nehalem. Eventually Miller Street was named for the family. The Miller family was very patriotic, and Arthur proceeded to name two streets just north of Mille Subdivision: Lexington, and Bidwell.
As to why he did that: The battles of Lexington and Concord were pivotal military engagements fought during the Revolutionary War against Great Britain as early as 1775. These battles marked the first exchange of gunfire in the War for Independence. Shots were fired by British soldiers, and eight militiamen went down – these were small skirmishes, but they became the monumental turning point for America's future.
And as for Bidwell Street, John Bidwell will not be found in the annuals of Oregon, or in Sellwood history; he was just a figure that apparently Henry Miller admired. John was a frontiersman, politician, and a dedicated solder. As Kurt Miller reveals, Bidwell eventually settled in Chico, California – the town he's credited with having founded. In 1841, he became one of the first emigrants on the California Trail, and later in life he ran for Governorship of California.
Meantime, the famous horticulturist Joseph Lambert continued his success in the 1870's. He introduced the Lambert Cherry to the Oregon Horticultural Society in 1896, and according to the Wikipedia online encyclopedia, he was a County Commissioner in Multnomah and Clackamas Counties – certainly meriting the naming of a street in his honor.
The re-naming of streets wasn't always popular with residents, though, and according to the Oregonian many people vigorously objected when the city council attempted to simplify street numbering in 1913. A proposal to call all streets running east and west "Avenues" and all other roadways "Streets" was rejected by the public. Department stores, fraternal, groups, and even the Postmaster of Portland objected to any changes in the street-numbering system. Succumbing to the pressure, the Portland City Council dropped the idea of any such changes at that time.
It was not uncommon for developers to name city streets after themselves or family members. Martins Street was named after P.J. Martins, and D.W. Ellis thought his family name would fit well on a street in Westmoreland.
It's widely believed that Mitchell Street was named for John H. Mitchell, a famous U. S. Senator; and that Reedway Street was probably named for C.J. Reed, who owned a section of land here. Tolman Street was surely named for John C. Tolman.
But still a mystery to many of us is how and why the names Duke, Carlton, Yukon, Knight (which replaced the name South Street), Harold, and Insley came to be applied to these north Westmoreland streets. All we can say about those was that there wasn't any set policy as to what to name streets, and often it was done at the discretion of the city recorder to fill in a name for streets in new developments. Hopefully that person was knowledgeable in Oregon History, but maybe not; the only prominent Harold in the United States most people can think of is Harold Square in New York, so that may have been the inspiration for naming Harold Street.
The Brooklyn neighborhood was a section of East Portland favored by German and Italian Immigrants – many of them hired\to work at the Inman-Poulsen Lumber Mill, just north of the Ross Island Bridge. With the Southern Pacific Railroad Yard nearby, jobs there also attracted many immigrants from Europe.
So it was no surprise when landowner Louis Feurer built a subdivision on the east side of Milwaukie Avenue in 1905, just south of Powell Valley Road, called Feurers Addition. To bring a bit of his German homeland to America he proceeded to name streets after the beautiful country he came from. New arrivals enjoyed living on streets named Karl, Frankfort, Bismarck – and the two named after the beautiful rivers of The Rhine and Rhone.
But when the Unites States entered war against German forces in 1917 in World War I, patriotic fervor was running high among the American people. In Portland disapproval was voiced against German names, and demands were raised that street names associated with the Rhineland be changed.
The Evening Telegram, a local Portland newspaper of the time, declared on April 2nd, 1917, that, "Streets with German names are to be renamed after old pioneers or American patriots or statesmen, according to Commissioner A.L. Barbur."
It wasn't long before city maintenance crews were out in the Brooklyn neighborhood -- renaming Frederick Street to Pershing, Karl Street to Haig, Bismarck Street to Bush, and Frankfort Street to Lafayette. Rhone and Rhine managed to retain their names. Interestingly, while Pershing was a well-respected American patriot, neither Lafayette nor Haig were Americans, but were foreign-born patriots. Mr. Bush is identified as a Brooklyn Pioneer by Eugene Snyder in his book of names, but Mr. Snyder didn't elaborate on Bush's vocation, or even reveal his first name.
Early well-known Brooklyn Pioneers like Gideon Tibbetts had no less than two streets named after him, and also one for his wife Mary. Long Street was named for Edward Long, who traveled the Oregon Trail with the Wills family; he formed a partnership with George and Jacob Wills, founders of the town of Willsburg just east of Sellwood, and he helped build the sawmill there.
It's not clear for whom Beacon Street was named, but Franklin replaced Beacon by the 1930s.
As late as 1987, Portland still didn't have a policy about naming streets. When a campaign was initiated by Bernie Foster, editor of The Skanner newspaper, and supported by City Commissioner Earl Blumenauer among others, to name a street in Portland for slain civil rights leader Martin Luther King Junior, Union Avenue eventually was chosen and renamed, and a new precedent was set.
Later, when a group demanded a downtown street be renamed for Cesar Chavez, the City Council punted -- and changed the name of S.E. 39th, surprisingly over the objections of Chavez' family, who insisted Cesar would not have wanted any street named after him.
Portland now has a city code in place dedicated entirely to the renaming of streets. The citizen process involves gathering at least 2,500 signatures, assembling a biography on the name chosen – and then, as you might expect, of course paying a fee!
---
The moment arrives, the signal is given, and the kids are off…to collect their Easter Eggs at Oaks Park! Seven minutes later, all the eggs had been found and claimed. (Photo by David F. Ashton)
SMILE 'Easter Egg Hunt' at Oaks Park this year
By DAVID F. ASHTON
For THE BEE
For decades – longer than any of the longtime volunteers from the Oaks Bottom Lions Club could remember – the annual Sellwood Moreland Improvement League (SMILE) Easter Egg Hunt has been a family tradition on the Saturday morning before Easter.
However, this was one of the many community events cancelled over the past two years, due to COVID-19 concerns. But this year, it was back – and in a big way! – thanks to the combined efforts of several volunteer groups, led by the nonprofit Sellwood Community House.
"We heard from community members that, after two years hiatus, they were hopeful the egg hunt would be revived," explained the Community Relations Director of the Community House, Erin Fryer. When invited to organize it by SMILE's Events Committee, headed by Jim Friscia, "We were able to piece together a truly collaborative community to present it."
For example, the bulk of candy was donated by the QFC Market; and volunteers from the Community House, SMILE, the Oaks Bottom Lions Club, and from Moreland Presbyterian Church together stuffed about 5,000 plastic eggs in the weeks leading up to it.
"A new partner this year was our host location -- nonprofit Oaks Amusement Park. Their spacious, fenced-off picnic area was the perfect location to contain the egg hunt," Fryer pointed out.
Families started arriving about an hour before the actual Easter Egg Hunt was slated to begin. Many took the opportunity to get treats and a hug, along with a photo, from the jolly Easter Bunny who was on hand.
It was impractical to count the number of people who attended: The astonishingly huge crowd was friendly and cordial as the kids lined up – divided by age group – to wait for the countdown to 11:30 a.m.
With kids running helter-skelter into the area, this "hunt" was, as usual, pretty much over in seven minutes.

Families stayed on to open and evaluate their candy treasures, to avail themselves of free train and carousel rides, and to have lunch on The Oaks' Midway, before an early afternoon thunderstorm rolled through.
"This tuned out wonderfully – and it shows that we are truly better together," smiled Fryer.
Below is a brief BEE video taken as the egg hunt got underway!
____________________________________________________________

At the site of the May 14th plant sale and "Gathering at the Garden" they're organizing, here are Eastmoreland Garden Club members – from left: Theresa Lovett, Judy Hayward, Carrie McGraw, Susan Hoover, and Marti Granmo. The conifer at lower left is an example of small trees that will be included in the plant sale. (Photo by Elizabeth Ussher Groff)
Eastmoreland plant sale returns – with a gala, live music, and events
By ELIZABETH USSHER GROFF
For THE BEE
The pandemic has interrupted so many things. One annual popular event that was halted for three years is the Eastmoreland Garden Club's fund-raising plant sale. This year it's back, with more of an emphasis on celebration.

Garden Club members are calling this month's extravaganza a "Gathering in the Garden" – and, in addition to the plant sale, it will also be a pageant of free and festive community events focusing on gardening.
The date will be Saturday, May 14th, from 10 until 2, and it will again be in the Eastmoreland Garden Park, at the corner of S.E. Bybee Boulevard and 27th Avenue. In addition to garden and art items for sale, there will be educational materials about gerdening, four hours of live music, and more
The for-sale items will include local nursery plants, commercially-grown tomato starts, glass and wrought iron garden art, Red Pig hand-crafted steel garden tools; small colorful flowering epimedium plants, conifer and maple trees from Arbutus Garden Arts, house plants and perennials from Roots of Joy (a floral design business), and native plants from SymbiOp Garden Shop. There will also be a free garden activity for children.
The gardening and environmental education will include tables by six nonprofit organizations – QuietCleanPDX, the Portland Rose Society, Metro Master Gardeners, the Johnson Creek Watershed Council, the Crystal Springs Rhododendron Garden, and the Eastmoreland Neighborhood Association Tree Committee.
Live music from local bands and ensembles will play at appointed times during all four hours. Performing will be "the always popular and invigorating" Sellwood Middle School Marimba Band, at 10 a.m.; the Chinook Winds Woodwinds Trio, at 10:45 a.m.; "Mice in the Kitchen", an Irish Session group, at 11:40 a.m.; the Sellwood Jazz Ensemble at 12:20 p.m.; and Missy Jo and the Joes Bluegrass band, at 1:30 p.m.
The Eastmoreland Neighborhood Association (ENA) and Southeast Uplift are co-sponsors of the event. A sale of commemorative bricks to be placed in the garden area will support maintenance of Eastmoreland Garden Park. The ENA Welcome Committee will also have items for sale.
The Eastmoreland Garden Club was founded in 1945 to promote the art of gardening and the study of horticulture, landscape, and floral design. Over the years it has furthered its objectives of protecting trees, plants, and birds. Its plant sales began over 70 years ago, with members digging and dividing plants from their own homes to sell to the community. Proceeds have gone to local organizations that promote gardening and green spaces, such as the Crystal Springs Rhododendron Garden, and the Leach Botanical Garden.
Funds from the sales have also helped underwrite the maintenance of the Eastmoreland Garden Park and Eastmoreland's street trees; and funds raised at this year's Gathering in the Garden will be used in the same way. If you have any questions, feel free to contact co-organizer Marti Granmo by email – marti@granmo.com.
---
Tess Fields spoke online at a Southeast Portland Rotary meeting about the benefits of compatible matching of homeowners with people who need an affordable room to rent. Home Share's mission is "to prevent housing instability, foreclosure, and homelessness through home sharing." (Photo by Elizabeth Ussher Groff)
Spare bedrooms – one 'affordable housing' alternative?
By ELIZABETH USSHER GROFF
For THE BEE
The lack of affordable housing is on many people's minds these days. Solutions seem to be taking too long to come about; but one nonprofit is dipping back in time to offer a housing option that was once considered a cultural norm.
The idea of having a "roomer" share your house has fallen out of the culture of homeowners in recent decades. It is still common, though, in some American and immigrant cultures, to fill up housing space with family and extended family. Nonetheless, in the entire United States, there are 1.5 million homes with a spare unoccupied bedroom or two.
At a Portland Southeast Rotary online ZOOM meeting on March 21st, Tess Fields – Executive Director of the new nonprofit Home Share Oregon – provided information that could help homeowners with spare rooms find a roomer who will pay an "affordable" rent, such as $600-$750 a month. It also can be a help to homeowners who are mortgage-burdened, o in a life transition, or in need of some additional income and companionship.
"'Home Share' was launched in 2021 because of the national housing crisis, with the average rent now being between $1,500 and $1,700 a month," explained Fields. "In Oregon, the average rent is $1,500 – so people are couch surfing, staying in hotels [sometimes with vouchers], or are on the streets.
"The fastest-growing population is seniors who had no way of predicting that cost of living would become so high. They thought their Social Security would be their safety net. The problem is outpacing solutions."
To make a home sharing arrangement work out smoothly, Home Share has tapped into "Silver Nest", a free online program that functions like a dating app.
This service requires both homeowners and prospective tenants to ask themselves questions, and provide answers, about the qualities and habits they want in a housemate. Then a match is made based on compatibility. "What's really important is to 'think it through' well," said Fields. "We find ourselves having to ask good questions." Silver Nest also provides background checks, at no cost.
A Home Share agreement provides homeowners with insurance, a process to lay out rules, free access to mediation services, and the right to "evict with cause" with 30-day notice in cases where the arrangement doesn't work out. "It is very important for the two parties to have a good conversation on the front end," stressed Fields.
"In 2020 we cut two [Home Share] television commercials, explaining that people are sometimes not comfortable sharing their house, or feel like it is weird. It was literally like a tsunami hit us! We had hundreds and hundreds of calls. Many were seniors, [especially] women – people whose social security had been cut, and were at risk of losing their homes. They were scared to get housemates on their own, and just needed assurance [that there is a safe way to do it]."
Due to the success of the program, Home Share applied for a grant to house Southern Oregon fire victims. They found good matches for 48 people in Lane County and 43 in Jackson County.
Currently, Home Share has a list of 400 homeowners who would like to have someone share their house. But the number of people looking for an affordable Home Share option is currently 1,400. For more information go online – http://www.homeshareoregon.org
To listen to a 30-minute informative radio recording, with people sharing examples from their home sharing experience, enter this in your computer browser – https://tinyurl.com/2p8nsvpy
---
Award-winning daffodils on display at this year's Crystal Springs Rhododendron Garden "Early Rhododendron and Daffodil Show and Sale", in April. (Photo by Rita A. Leonard)
Rhody & Daffodil Show held in April at Rhododendron Garden
By RITA A. LEONARD
For THE BEE

The weekend of April 9 and 10 was highlighted by this year's Early Rhododendron and Daffodil Show and Sale, held at Crystal Springs Rhododendron Garden, on S.E. 28th, on the west side of Reed College.

Eight judges, under the leadership of hybridizers Theresa Fritchle and Steve Vinisky, judged the daffodils on various characteristics, such assize, form, color, condition, and substance.

"Due to the lateness of the daffodil season this year, most entries were probably refrigerated before display," remarked Vinisky. Another judge observed that there are over 25,000 registered varieties of daffodils worldwide, but due to the work of hybridizers, new ones are constantly being developed.
Vinisky, who operated a nursery in Sherwood for over 25 years, spent his time there breeding and hybridizing new daffodils. This year, he won an award for "Best Seedling in Show".

Among other winning entries were an azalea truss by Aaron Myton, awarded "Best in Show". Other entries, by Ray &Ann Clack, were an azalea Trophy & "Best Protected Trophy" which were displayed at the winners' table.

Other flowers in bloom at the Rhododendron Garden this year were trout lilies, violets, anemones, magnolias, and Christmas roses – enjoyed by visitors as they wandered along the paths and bridges of the garden, observing waterfalls, a water spout, and scenic views of the adjacent Eastmoreland Golf Course

Pedro, a member of the Portland Chapter of the American Rhododendron Society, oversaw judging of the colorful early rhododendrons on display. "This year, the rhododendron sale was held 'virtually', on the web at – http://www.crystalspringsgardenpdx.org – instead of at the garden in person. All proceeds will go to benefit the garden," he assured.

Pedro told THE BEE that the upcoming May Mother's Day Show and Sale will probably be held online as well, due to conflicts with a concurrent meeting of the Portland Convention of the American Rhododendron Society, which oversees the Crystal Springs Rhododendron Garden.
---
Portland's "orange bike" rental system, "Biketown", has been installed at S.E. Pershing Street and Milwaukie Avenue, across from Brooklyn Park. (Photo by Rita A. Leonard)
City's bike rental program spreads to the Brooklyn neighborhood
By RITA A. LEONARD
|For THE BEE
Earlier this year, the Portland Bureau of Transportation (PBOT) and "Biketown", operated by Lyft and supported by founding partner Nike, announced that the orange rental bike racks – up until now mostly just to be found downtown – are to expand the service area by nine square miles, moving into East and North Portland.
Consequently the program has begun installing new orange bike racks in the Southeast Portland area, including a new five-space rack at the corner of S.E. Pershing Street and Milwaukie Avenue, across from the entrance to Brooklyn Park.
Portland City Commissioner JoAnn Hardesty announced the expansion at a news conference at Knott Park: "With the collaboration with private sector partners like Nike and Lyft we can continue efforts to reduce our carbon emissions, and make sure everyone has an opportunity to enjoy sustainable transportation options."
Transportation Director Chris Warner promised, "In East and North Portland, PBOT staff will continue to work with community partners to spread Biketown stations and associated street improvements, to make biking safer and more comfortable."

Last year, PBOT and Biketown added more eligibility criteria for the "Biketown for All" program – considerably increasing access to electric-assist bike-share throughout the city. With these additions, Portlanders who qualify for "Biketown for All" through other eligibility criteria are also eligible for a free membership. That benefit waives the per-minute ride fee (for up to 60-minute rides) and the $5/month membership fee, which is already at a significant discount compared to the cost of an annual membership.
The new bike rack kiosk across from Brooklyn Park provides information on the system. For more details, go online – http://www.biketownpdx.com
---
At Sellwood Community House, Ginny Yavorskyi and Pastor Volodymyr Yavorskyi of Sellwood's St. John the Baptist Orthodox Ukrainian Church accept handmade gifts from the Sellwood Community House's Ronnie Carey, and project organizer Tina Osterink. (Photo by David F. Ashton)
Sellwood Community House creates 'Cranes for Ukraine' origami art
By DAVID F. ASHTON
For THE BEE
In support of their neighbors from Ukrane, the neighborhood-operated, nonprofit Sellwood Community House hosted a community project for adults and children to fold origami paper "peace" cranes, in the colors of the Ukrainian flag – blue and gold.
The project, which ran during most of March and into April, culminated on Saturday morning, April 2, with a presentation to Pastor Volodymyr Yavorskyi of Sellwood's St. John the Baptist Orthodox Ukrainian Church.
"With the help of Ronnie Carey of the Community House, we were able to make about 500 cranes," said project organizer Tina Osterink.
It was a multi-generational and cross-cultural neighborhood-wide effort, Osterink pointed out. Volunteers involved included staff from the Community House, SMILE and Sellwood-Westmoreland community members, Llewellyn Elementary students, and youth with the 59th Johnson Creek Outdoor Service Guides, Cub Scout Pack 64, and Girl Scout Troop 10492.
"We did this to extend support to our neighbors, so they know that we're here to support them," Osterink told THE BEE. "This is a wish for peace; and not only is it a visual support, we're also trying to work out a way to raise funds to support the people in Ukraine."
More than simply baskets full of paper cranes, the pastor was also presented a framed flag made of cranes, a suspended mobile, and appropriately-colored flowers from the Sellwood Flower Shop.
"We are very grateful for the support and friendship of our neighbors," Pastor Yavorskyi acknowledged when receiving the gifts.
You can make donations to their cause through the website of Sellwood's St. John the Baptist Orthodox Ukrainian Church – http://uoc.weebly.com
---
Pastor Brian Marsh spoke at April 3 opening of the new "Little Free Food Pantry" at Moreland Presbyterian Church, along with the Junior Girl Scouts of Troop #10631. (Photo by Rita A. Leonard)
Girl Scouts' Little Free Food Pantry opens in Westmoreland
By RITA A. LEONARD
For THE BEE
On Sunday, April 3rd, Junior Girl Scout Troop #10631 celebrated the opening of their new community project – a "Little Free Food Pantry" – at Moreland Presbyterian Church, S.E. at Bybee Boulevard in Westmoreland.

The girls gathered there with their leaders and members of the community to fill the shelves. Pastor Brian Marsh and the girls made a few remarks, then hosted a small reception with coffee and cookies.
The award-winning project joins many other styles of Little Free Food Pantries in Inner Southeast – some with Little Free Refrigerators, umbrella-covered stands, or tent-like structures. During these times, it's heartening to see the community support those less fortunate.
Twelve Troop members under the leadership of Casie Dunning as well as Shelly Coffman, Kjiersten Whittington, and Kelly Betteridge, participated in this project. The Junior Girls Scouts are all fifth graders in local schools, and each will receive a Girl Scout Bronze Award – one of the highest awards in Girl Scouting. The project helps the girls understand their own power, as they make a positive and lasting change in their communities.
Scout leaders encouraged the girls to create and deliver neighborhood fliers to advertise the new Westmoreland food pantry. The girls are still seeking more appropriate food and healthcare items for the community pantry, and a list of hoped-for items is posted at the site.
The Scouts had already received enough donated food items and other supplies to fill the two shelves of the small roofed structure which had been constructed and painted earlier in the year. Each girl will help sort the donations and monitor the pantry for unsafe or expired items. They have posted guidelines for, "Giving what you can; taking what you need".
Dunning told THE BEE, "We'd like to thank local General Contractor Jeff McCoy, who volunteered to build the structure. The scouts painted it in early March. The 40" x 38" size mini-pantry is made of wood with siding, and has two doors, two shelves, and a shingled roof. We'd also like to thank Pastor Brian Marsh and Moreland Presbyterian Church for their partnership and support."
As for some of the other "Little Free Food Pantries" in Southeast, in Woodstock there's one constructed of yellow plastic recyclable glass bottle bins, stacked atop each other by the side of the road. Others feature shelved distribution centers that include toys as well as food. In Brentwood-Darlington, one located behind Lane Middle School replaces a smaller version formerly placed in front of the building. In Brooklyn, folks have placed bags of potatoes, beans, macaroni, and rice on park benches or stone walls, for transients to pick up. Brooklyn also hosts events to gather donations for the "Groceries for Grout" food pantry.
Members of Junior Troop #10631 include Bea Bebetteridge-Hall, Bryn Pucik, Callie Erovick, Frances Penn, Sasha Gordon, Piper Gordon, Maggie McCoy, June Dunning, Naomi Eshel, Dell Whittington, Lela Whitehead, and Hazel Nhem.
---
JUNE 1
In-person SMILE meeting features "summer fun" plans: Introducing a series of monthly General Meetings with a changing theme, SMILE – the neighborhood association for Sellwood and Westmoreland – highlights fun activities and events planned for this summer. 7:30-9 p.m., SMILE Station, S.E. 13th at Tenino.

JUNE 5
Opening day at Woodstock Farmers Market: Starting today, the season of the Woodstock Farmers Market midday Sunday markets is underway in the KeyBank parking lot, S.E. 46th Avenue and Woodstock Boulevard – from 10 a.m. to 2.p.m., through October 30th. Farm-fresh produce, hot foods, live music, kids' activities, and more. For details, go online – http://www.woodstockmarketpdx.com
JUNE 11
Folk music concert this evening in Reed neighborhood: The nonprofit Portland Folk Music Society presents, in concert, Hank Cramer – this evening, at 7:30 p.m. – at the Reedwood Friends Church, 2901 S.E. Steele Street. Doors open at 7. Tickets are $25 for adults, $12 for children age 12 to 18; under 12 free.
JUNE 17
St. Anthony's annual Rummage Sale today and tomorrow: St. Anthony of Padua Portland Altar Society presents its annual fundraising Rummage Sale today from 9 to 5, and tomorrow from 9 to 4 – with a promise of great bargains! Refreshments will be available. The address of St. Anthony's Church is 7920 S.E. 79th Avenue. For more information, call 503/504-1204.
JUNE 18
All Saints Church hosts "Juneteenth" in Woodstock: Today from 10 a.m. to 2 p.m., Black businesses from around the Portland area will be gathering in Woodstock to sell their products. Enjoy food, coffee and drinks, services, and much more. Festivities to include children's face painting and games. Organized by "The Voices Project" and sponsored by neighborhood businesses and organizations on the grounds of All Saints Episcopal Church, 4033 SE Woodstock Boulevard. Learn more at – http://www.voices-project.org/juneteenth
JUNE 26
Milk Carbon Boat Races at Westmoreland Park Casting Pond: Today is the day for the 2022 Westmoreland Park Milk Carton Races, an official Rose Festival event, and the public is invited to attend, starting promptly at 11 a.m., at the Westmorleand Park Casting Pond, east of S.E. 22nd and a bit north of Lambert Street
JUNE 27
Four-day summer baseball camp; register EARLY: Benson Polytechnic High School, just north of Burnside in Inner East Portland, is hosting a four-day summer baseball camp June 27-30. Benson Polytechnic Head Coach Dan Harrison will direct the program, in conjunction with U.S. Baseball Academy. The four-day skills camp will feature instruction during the morning, with a focus on hitting and defense. The afternoon session will focus on situational baseball games, competition drills, and a Wiffle Ball World Series. Space is limited. Registration is now under way. For more information, go online – http://www.USBaseballAcademy.com – or call toll-free, 1-866/622-4487.
SCROLL DOWN FOR THE LIST OF COMMUNITY HOTLINKS -- USEFUL, AND JUST PLAIN

FUN

HOTLINKS -- IMMEDIATELY BELOW!
Useful HotLinks:
Your Personal "Internet Toolkit"!


Charles Schulz's "PEANUTS" comic strip daily!

Portland area freeway and highway traffic cameras

Portland Police

Latest Portland region radar weather map

Portland Public Schools

Multnomah County's official SELLWOOD BRIDGE website

Click here for the official correct time!

Oaks Amusement Park

Association of Home Business (meets in Sellwood)

Local, established, unaffiliated leads and referrals group for businesspeople; some categories open

Weekly updates on area road and bridge construction

Translate text into another language

Look up a ZIP code to any U.S. address anywhere

Free on-line PC virus checkup

Free antivirus program for PC's; download (and regularly update it!!) by clicking here

Computer virus and worm information, and removal tools

PC acting odd, redirecting your home page, calling up pages you didn't want--but you can't find a virus? You may have SPYWARE on your computer; especially if you go to game or music sites. Click here to download the FREE LavaSoft AdAware program, and run it regularly!

What AdAware doesn't catch, "Malwarebytes" may! PC's--particularly those used for music downloads and online game playing--MUST download these free programs and run them often, to avoid major spyware problems with your computer!

Check for Internet hoaxes, scams, etc.

Here's more on the latest scams!

ADOBE ACROBAT is one of the most useful Internet document reading tools. Download it here, free; save to your computer, click to open, and forget about it! (But decline the "optional offers" -- they are just adware)

Encyclopedia Britannica online

Newspapers around the world

Convert almost any unit of measure to almost any other

Research properties in the City of Portland

Local source for high-quality Shaklee nutritionals

Note: Since THE BEE is not the operator of any of the websites presented here, we can assume no responsibility for content or consequences of any visit to them; however we, personally, have found all of them helpful, and posted them here for your reference.


---
Local News websites:
The news TODAY

Local News Daily.com

KATU, Channel 2 (Digital/HDTV broadcast channel 24)

KOIN, Channel 6 (Digital/HDTV broadcast channel 25)

KGW, Channel 8 (Digital/HDTV broadcast channel 26)

KOPB, Channel 10 (Digital/HDTV broadcast channel 10 and 28)

KPTV, Channel 12 (Digital/HDTV broadcast channel 12)

KRCW, Channel 32 (Digital/HDTV broadcast channel 24 and 25)

KPDX, Channel 49 (Digital/HDTV broadcast channel 12 and 26)

"Next Generation TV", in the incompatible ATSC-3 format, is currently duplicating (in the new format) KATU, KOIN, KGW, KOPB, KPTV, KRCW, and KPDX on channels 30 and/or 33; you will need a new TV or converter box capable of receiving the new ATSC-3 format in order to see these broadcasts.


---