Community Features
The "Events and Activities" for the month are beneath these featured stories!
---
Men of the Sellwood Volunteer Fire Department, here preparing for inspection. Fire Hose? Check. Fire Ladder? Check. Firefighting neckties? Mustaches groomed and waxed? Check! Horses ready to go? ...Wait a minute! We don't have any horses. We're real men, and we'll push this ladder truck all the way down 13th Avenue by ourselves! (This early firehouse at 13th and S.E. Tenino is now the site of SMILE Station.) [Photo courtesy of SMILE History Committee]
SOUTHEAST HISTORY
Sellwood and Inner Southeast, as it was 116 years ago
By DANA BECK
Special to THE BEE
At the stroke of midnight on December 30th, 1899, what were residents living in Inner Southeast Portland thinking about, as they considered their future in the shiny new Twentieth Century?
Like many of us who were around on December 31st sixteen years ago to cheer in the Twenty First Century, when the big ball descended in Times Square in New York City, what were their hopes and fears for their future?
While there's no one alive now to interview on this topic, let's take a step back and see what transpired when the 1900's arrived in Portland.
In the previous seven years at the end of the Nineteenth Century, local residents had endured the economic collapse felt nationwide in 1893, and again in 1897. Real estate sales and new businesses were at a virtual standstill, and the Willamette Valley was still saddled with the destruction left behind from the terrible flood of 1894.
In the community of Sellwood, with a population of only 1,800 people in 1893, residents lived on farms and in small cottages and houses scattered among merchant shops and stores built along Umatilla Street.
Over the following 13 years, over 5,000 people would settle into this neighborhood, and a hundred business firms and industries would be prospering in the community. The Eastside Railway Streetcar built along 13th Avenue offered homeowners a more efficient way to get downtown, and its rail placement away from the shops along Umatilla was slowly changing the dynamics of the commercial district of Sellwood.
The streetcar era had arrived, and crafty merchants like banker Peter Hume and sign-painter J.P. Zirniegnal took advantage, by building the first two-story business structures along 13th Avenue.
Sellwood's first bank opened at Umatilla Street, and the Zirniegnal building at Tenino Street housed A. Robertson's General Store. Upstairs office spaces at both buildings were used by local physicians, dentists, and music teachers.
The Lewis and Clark World Exposition was the most significant event that occurred in Oregon in 1905. With over 1.6 million visitors to the four-month-long fair, it helped increase Portland's visibility and diversity as a big-time city. Sellwood in particular reaped rewards from the World Expo, as travelers explored the outskirts of the city by riding the new interurban lines which took passengers to the brand new Oaks Amusement Park, and past Golf Junction for further excursions on the east side of Portland.
Believe it or not, Sellwood Park was considered as the site for this World's Fair, but bankers, promoters and the prominent businessmen in downtown Portland insisted the World Exposition be located on the west side of the Willamette River.
Although Sellwood was simply a neighborhood in Portland at the turn of the Twentieth Century, for a brief time previously, it held the special distinction of being a separate incorporated town.

On March 12, 1887, the City of Sellwood's first city council meeting was held, the new town's first elected council members numbered five – including a recorder, a treasurer, a city marshal, two street commissioners – plus a mayor and council president. Meetings were conducted at City Hall, located above Campbell's Grocery store along Umatilla Street between 11th and 13th.
The all-volunteer city council was disbanded after Sellwood was annexed into Portland, but the "Sellwood Board of Trade" was established in 1900 from ex-council-members, to continue Sellwood's push to be a modern community. The Board of Trade would be responsible for creating a branch of the library, calling on government officials to provide a sewer system, as well as better drinking water and paved streets and sidewalks.
One of the many accomplishments by this board was the successful request of the City of Portland to create a city park in Sellwood. The City of Portland paid $47,000 to purchase 15½ acres of land owned by Sellwood businessman W.H. Morehouse – and what was previously a horse racetrack, with a beautiful view of downtown Portland – then called City View Park – was, by 1909, converted into the neighborhood's new Sellwood Park, on the bluff overlooking the Willamette River.
Perhaps surprisingly, that was not Sellwood's first city park. Johnson Creek Park was bestowed the title of the area's first park, when purchased for the community the previous year. Located at the eastern end of Clatsop Street at S.E. 21st, that park was created from seven lots in 1908; but it wasn't until after the Johnson Park Improvement Club was formed that an additional seven lots were purchased, a playground was installed, and concerts were presented during the summer. The Fourth of July celebration at Johnson Creek Park was a most anticipated and well-attended event.
The Sellwood Commercial Club, which billed itself as a social club instead of a business organization, was established in 1900. Within a few years there were more than 100 members to raise money to support Sellwood's Rose Festival float entry, and fund other community projects.
Money was collected to build an extensive clubhouse and to buy its furnishings at 1325 S.E. Umatilla, used for club meetings, special events and entertaining potential business clients. When the depression of the 1930's hit, membership dropped considerably, and the Commercial Club's clubhouse was sold.
A volunteer fire department for the Sellwood area was sorely needed by concerned residents. Electricity was just starting to be installed in older homes and in new construction, but the widespread use of wood stoves and kerosene lamps still created a serious fire hazard for homes and b
A firehouse was built on city-owned property on the S.E. corner of 13th and Tenino, but electric service wasn't installed in it until 1900. The firefighters still lacked fire equipment, and didn't even own a fire truck, hoses, or horses to haul a fire pumper to an emergency situation. A Ladies Auxiliary was established to organize dances and events to raise money to purchase such needed supplies.
Still without much equipment, twelve volunteers stepped forward to offer their strong shoulders and common sense to respond to fire in the neighborhood. They were led by top foreman J. E. Reinke. It wasn't until 1907 that the Sellwood Engine House merged into the newly-formed and professionally-staffed Portland Fire Department.
Merchants began viewing Sellwood as presenting an opportunity to provide new services; and workers moved to Inner Southeast wanting to be closer to these employers. The Portland Woolen Mills, Fruit and Preserve Cannery, and Sellwood Wet Wash offered jobs for women that were never available before.
Roy T. Bishop, once a part owner of the Pendleton Woolen Mills, started the Oregon Worsted Mills, to replace the Portland Mill and the Ross Wool Scouring that once stood on the same spot. Oregon Worsted furnished wool blankets for soldiers during World War I.
For men, the Eastside Lumber Mill Company, owned by John Miller and his sons John Junior and Paul, offered jobs to replace those lost when the the Sorenson and Young Sawmill closed in 1902. By 1920, over 600 men were employed at the mill and the Oregon Door Factory (1910); and the East Side Box Plant was built at the foot of Tacoma Street, near the mill, to make wooden fruit boxes.
The Bissenger Wool Pulley, Peiffer Brothers Tannery, and Wilhelm Brewery along the Sellwood waterfront also provided job opportunities. John G. Wilhelm closed the brewery during Prohibition, however.
The Oregon Water and Power Railway purchased an area near 13th and Ochoco Street, where tracks for the new Interurban were being laid, in order to continue service to Gresham and beyond. Big plans were in hand to build a car barn garage along Linn Street while another set of rails was extended through the newly developed Waverley Golf Club that had just moved its membership from 21st and S.E. Powell.

By 1909, Inner Southeast residents had transportation available south to the cities of Milwaukie and Oregon City, and east to Estacada and the resort town of Damascus, where thousands flocked each summer.
The street car barns at Linn and Ochoco along 13th Avenue were completed, adding a further influx of workers and families into the neighborhood. Investors and contractors rushed to build affordable living accommodations, as the Electric Hotel was completed and a host of two-story boardinghouses and apartments were erected close to the street car barns.
By then, Sellwood was growing rapidly, with new industries and retail shops opening so fast that residents needed a newspaper to convey information and happenings in the community. Charles Ballard, the owner and editor of what was initially (and thereafter repeatedly) the Sellwood Bee, offered the first issue of his newspaper to the public on October 6th, 1906. After a brief interlude when the owner moved the paper down the road to become the Milwaukie Bee, Ballard returned to the community and set up shop along 13th Avenue south of Tacoma Street.
By 1907 THE BEE had been sold to Charles M. Thompson and, with the assistance of C. T. Price, continued printing one of the community's most important newspapers for the next 14 years. Today THE BEE is one of the two longest-published community newspapers in the City of Portland. (Exceeded only by the St. John's Review, which is older by half a year.)
Near the end of the first decade of the Twentieth Century Dr. John Sellwood built what was claimed by locals to be the first Portland hospital on the east side of the Willamette River. Completed in 1909, the Sellwood Hospital was staffed with eight nurses, and provided quarters for thirty patients. Within the next few years an addition was built, and a nurse's quarter was established with quality training.
The Hospital was sited along the north side of Harney Street between 13th and 15th Avenues, next to Dr. Sellwood doctor's quarters, and close to the St John's Episcopal Church, which he had helped to establish at the end of the block.
Overcrowding at Sellwood School (today's Sellwood Middle School) was a source of worry for Principal Clifford A. Strong – a concern also held by the Sellwood Board of Trade; Strong lobbied school officials for a more efficient building.

By 1910 a new four-story wooden structure was under construction, as was a state-of-the-art playing field and playground for outdoor activities. The Parent Teachers Association helped secure and provide books for the new library that was using a vacant store front across from the school on Umatilla Street. Opening day was on February 10th, 1905. A Boys Club and the Sellwood Study Club were organized and the first branch of the Y.M.C.A. was established at the corner at 15th and S.E. Spokane (which is now Portland Parks' Sellwood Community Center) for after-school programs.
When the City View Race track closed to make way for Sellwood Park, new merchants began opening shops along 17th Avenue to replace the saloons and beer gardens that had flourished along Umatilla Street.
E. S. Bottemiller opened up what became known as Bottemiller's Grocery Store on Harney Street – then known as Douglas Street.
When William Welch took over the rental stables belonging to Robian's Beer Garden he began placing orders and making house deliveries by horse and wagon. Welch's Grocery and Meat Market would become a mainstay for Westmoreland residents for the next 40 years until he sold his shops, but he continued to dabble in the real estate market in Sellwood. The W. S. Saloon on the southeast side of 17th and Umatilla, across from the Sellwood Hotel, was still serving customers – and George Gottschalk, who survived the harrowing 1906 San Francisco earthquake, moved his family into an old run-down tavern on the southwest corner. With the help of his brother John, the new establishment was christened the Gottschalk Café.
Other shops along 17th included the Sellwood and Johnson Feed and Hay Store, Sellwood Wet Wash Laundry Company, and the E. B. Rose Blacksmith Shop.
As 1909 came to a close, Sellwood was progressing by leaps and bounds. A new neighborhood to the north called Westmoreland was just getting its start east of Milwaukie Boulevard at the Bybee streetcar intersection.
Led by the Columbia Trust Company, twenty-five modern homes were built, along with paved streets and sidewalks. Growth continued in Westmoreland with the opening of the Llewellyn Public School at S.E. Henry and 14th Street – and the old Midway School, at Milwaukie and Ellis Street, was closed not long after.
A new commercial district was finished at the intersection of Milwaukie and ByBee, near a metal and stone arch structure built to welcome newcomers to Westmoreland. The Portland Crematorium was one of the city's first and most controversial funeral homes, offering funeral options as early as 1907.
A new decade and century which started with such uncertainty turned out to be among Sellwood's most prosperous and growing years, energizing the growth and development elsewhere in Inner Southeast Portland, with bright prospects for the future.
---
Scott McNeely standing with Bruce Heiberg and Tony Broga, along with Brenna Cahill and Billy Judge, were some of the volunteers helping with the 2016 SMILE Neighborhood Clean-Up in May. (Photo by David F. Ashton)
Annual SMILE Clean-Up still leads the way
By DAVID F. ASHTON
For THE BEE
In Inner Southeast Portland, and perhaps in the entire city, the Sellwood Moreland Improvement League (SMILE) Neighborhood Clean-Up is the grandparent of them all.
"We have been involved in the SMILE Neighborhood Clean-Up for more than 30 years, right after the city became involved in the project," remarked Bruce Heiberg, a Woodstock realtor and a member of the Sellwood family that owns and runs Heiberg Garbage & Recycling. The annual neighborhood cleanup is held in the south-end parking lot of Westmoreland Park.
"Doing this is important to us for a couple of reasons," Heiberg told THE BEE at this year's May 21 cleanup. First, it really helps build a sense of community; with twenty volunteers here, everyone helps each other, kind of like a barn-raising, to get rid of their stuff.
"And, as folks do the 'spring cleaning' of their houses, garages, and yards, they can drive up here, and not have to wait in a big long line at a Metro Transfer Station," Heiberg said.
After paying disposal expenses, the fee collected from those who come to dump their bulky waste goes to SMILE, helping to pay for neighborhood activities such as the annual Easter Egg Hunt, he said.
A special challenge this year, which other neighborhood cleanups have also had to cope with, is that new rules prohibit dumping of any construction materials that might conceivably contain any traces of asbestos; a few neighborhoods have actually cancelled cleanups this year because of the threat of thousands of dollars in fines if any such materials are included in the dumpings.
The remaining cleanups, including SMILE's, have put a complete ban on any construction materials just to be safe. Inspectors were on hand at this one to make certain nothing prohibited was dumped.
That inspecting increased the need for people on hand, and this year the SMILE volunteers were augmented in filling the dozen-or-more large drop boxes by twelve individuals from Multnomah County Community Services. "We really appreciate their help," Heiberg commented.
---
BDNA Board Member and volunteer Derek Covey and event organizer Malcolm Hancock take a break during the Brentwood-Darlington Neighborhood Clean-Up. (Photo by David F. Ashton)
Brentwood-Darlington neighbors host annual clean-up
By DAVID F. ASHTON
For THE BEE
Summerlike weather helped boost the turnout of neighbors discarding bulky waste, and made it more enjoyable for the Brentwood-Darlington Neighborhood Association (BDNA) volunteers who hosted a "neighborhood clean-up" across from Lane Middle School on Saturday, May 7.
"We've lots of volunteers here today," remarked 15-year veteran clean-up organizer, Malcolm Hancock.
"Some other neighborhoods decided not to hold events this year," Hancock said, "because they were concerned about new regulations enforced by Metro regarding types of building materials we could accept – mostly concerned with keeping asbestos out of our dropboxes."
However, most of the materials coming in at this one ranged from mattresses to broken furniture, and other discarded household goods.
"Having several people from Multnomah County Community Services here was really helpful," Hancock said. "If it wasn't for them, we would not be able to do this."
BDNA Board Member and volunteer Derek Covey was enthusiastic. "This is a really good way to help keep our neighborhood clean. And, it's a fund-raiser for our neighborhood activities."
---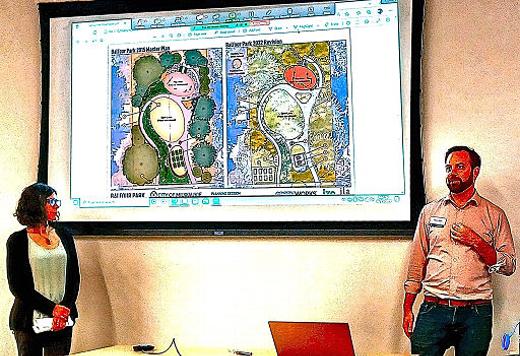 Even in the rain, people came to shop at the Ardenwald/Johnson Creek Neighborhood plant sale, held in the yard of Balfour Park Committee Chair Lisa Gunion-Rinker (at right, in raincoat). (Photo by David F. Ashton)
Plant sale helps develop Ardenwald's Balfour Park
By DAVID F. ASHTON
For THE BEE
Volunteers for the Ardenwald/Johnson Creek Neighborhood Association are still raising money for the development of Balfour Park, an 4/5-acre undeveloped neighborhood park site at 3103 S.E. Balfour Street. The Ardenwald neighborhood is partly in Portland and partly in Milwaukie.
"The City of Milwaukie purchased the land in 2008 with funds from Metro's voter-approved 2006 natural-areas bond measure," reminded park Committee Chair Lisa Gunion-Rinker, while attending to the neighborhood's annual spring plant sale, held in her expansive back yard on May 15.
In 2015, the park's Master Plan was vetted by the neighborhood and city entities, and it was approved, Gunion-Rinker said. "Now, we're ready to move forward. But, unfortunately, the price tag for the amenities of the park is very high – about $350,000 altogether.
"Since the land has been purchased, we've been doing fundraising: As with plant sales and garden tours, to raise money for development of the new park," explained Gunion-Rinker. "We have raised about $7,500 now. We are hoping to proceed with the Community Garden portion of the park – and we plan to apply for a marching grant when we get to $10,000."
Learn more about the park, or to donate, visit online: http://www.ardenwald.org/committees/balpk
---
On opening day at the popular Westmoreland farmers market, "Balloon Man" made balloon sculptures for kids. (Photo by Rita A. Leonard)
Moreland Farmers Market opens with new vendors
At the Schoolyard Farms tent at the Moreland Farmers Market on opening day were, from left: Farm Manager Annika La Fave, NCNM intern Sadie Harmon, Dania Kali, and the Farmers Market Manager, Lannie Kali. (Photo by Rita A. Leonard)
By RITA A. LEONARD
For THE BEE
The shoppers at the Wednesday, May 4th, opening of the nonprofit Moreland Farmers Market in Westmoreland – at S.E. Bybee at 14th, across from Wilhelm's Portland Memorial – were clearly looking forward to resuming their familiar Wednesday afternoon routine. And, this year, they had more to choose from than ever.
Nearly 70 vendors have signed up for the season, although only about three dozen will set up in a given week, according to Market Manager Lannie Kali. "This year we're opening an hour earlier – you can shop from 2 until 7 p.m.," she smiled. "We're also promoting more hunger-reduction programs, since data shows that nearly 22% of the money spent here comes from low-income families."
Many new vendors this season feature unique organic products. Ahara Rasa offers free samples of "ghee" (extra-clarified butter), along with popcorn. Mud Dog Farms presented mostly heirloom products, including lavender buds, purple cauliflower, and fresh quail eggs, along with cooking suggestions. The folks at Kichana spread out a variety of Peruvian Fusion Cuisine items in a colorful array.
There has appeared a "Vendors on the Grass" section to increase vendor space. "We're a great incubator for small businesses," remarked Kali. Tommy Noyes, Music Coordinator for the Market, advised, "For the next few weeks, we'll be having all local school talent playing here; all of them kids under age 14."
A balloon artist in the plaza on opening day sculpted designs for eager youngsters. Nearby, Donna Maleki, Community Outreach Coordinator for Green Drop Garage, which recently opened in the Reed Neighborhood, explained the company's own hunger relief plan. "We're working on a 'food buyback' program, to donate vendor remainders at this market to charity, so there will be less waste," she said.
A Board member of the Moreland Farmers Market, Casie Dunning, revealed, "This year we're focusing on three critical hunger-relief programs to help our community. We hope to encourage sponsors for Double-Up Food Bucks, The Kids' Power of Produce Program (POPs), and the Senior Nutrition Program.
"These programs educate shoppers about the benefits of fresh produce in their diets, and offer matching tokens for $10, $2 and $5 respectively to use at the Market. If a BEE reader would like to help sponsor any of these programs, please call 503/341-9350, or send checks to P.O. Box 820122, Portland, 97282."
At the Schoolyard Farms tent, kids were invited to sign up for summer camps focused on healthy nutrition. Manager Annika La Fave explained, "The Kids' Power of Produce Program is a nationally-recognized program that guides students through the steps of seed identification, gardening, food selection, and cooking.
"We set up small produce farms on school lots (like the one at Candy Lane Elementary in Milwaukie), and teach kids about healthy eating." Dania Kali, age 7, attended last summer, and plans to go again this year. Her Mom explained, "She was really invested in the program. She said she felt like she was the beanstalks' Mom."
For more information on the Moreland Farmers Market, now weekly on Wednesday afternoons till October, go online: http://www.morelandfarmersmarket.org.
---
What is a street fair – even a one-hour one – without a little live music? On this day, this was provided by the Llewellyn Student Jazz Band. (Photo by Eric Norberg)
Llewellyn Elementary whips together a street fair
By ERIC NORBERG
Editor, THE BEE
When it's the "late start" day of the Portland Public Schools month, what's a school to do? Well, it could start late.
Or it could stage a one-hour bicycle/walking/wellness fair in the extra hour, and close a street to do it.
According to an organizer at Westmoreland's Llewellyn Elementary School, Brian Buck, the idea had been germinating, but it only came together at the last minute – on Wednesday morning, May 18, when a permit to close S.E. 14th between Tolman and Duke Streets was granted for 9 to 10 a.m.
In that hour, 14th was marked off with chalk for a bike rodeo, with yoga ball races set up at the south end, near Duke Street; a slack line was set up to challenge kids' balance at the covered outdoor court, where basketball was also in progress; quadricycle races were underway on the playground; and a few vendors were at tables along the sidewalk, next to the Llewellyn Student Jazz Band, which entertained.
There was a nice crowd on hand, and everyone had a lot of fun. At 10 a.m., school got underway, and the street was cleared and reopened. The one-hour street fair was over.
---
Eastmoreland Garden Club member Susan Hoover checks out sale customer Annie Radecki, who is holding young Alex. (Photo by David F. Ashton)
Annual plant sale boosts Eastmoreland gardening projects
By DAVID F. ASHTON
For THE BEE
Just in time for Mother's Day, the Eastmoreland Garden Club Unit #1 again held their annual Plant Sale on May 7 at the petite-sized Eastmoreland Garden Park on S.E. Bybee Boulevard.
Shoppers queued up, waiting for the sale to start – and, when it opened, sales were brisk throughout the morning. "Most of the plants come from our members' gardens," revealed this year's Chair, Alison Lopakka-Joy.
Volunteers carefully dig them up – with the member's permission, of course – then pot and nurture them for three months before the sale, Lopakka-Joy explained. "Only 15% of the plants here come from nurseries."
Susan Hoover, President of Eastmoreland Garden Club Unit #1, said they'd hoped to raise as much as $3,000 from the sale.
"The money goes to support projects that are in line with our club's goals, which is to promote gardening related projects, and gardening education," Hoover told THE BEE.
"In addition to helping support tree maintenance in Eastmoreland, some of the funds raised also go to projects that support food security and food growing education."
---
This wind spinner, created with rotating metal bowls, changes its apparent shape with the direction of the wind. (Photo by Rita A. Leonard)
Unusual wind spinners celebrate spring breezes for Reed neighbors
By RITA A. LEONARD
For THE BEE
Spring is traditionally a time of wind and rain, mixed with sunshine. As spring blossoms bring color to the area, neighbors experiment with wind features and lawn ornaments. Two Reed neighbors, Doug Yarrow and Allen Kennedy, provide whirligigs and lawn sculpture along S.E. Raymond Street between 36th and 37th Avenues.
Yarrow, a retired teacher from West Virginia, has mounted several unusual wind spinners along his fence to dance in the breeze. Several are based on pinwheel designs, while others are made of wood or plastic funnels, designed like an anemometer. A metal wind spinner with cup-shaped attachments is sited on a nearby post, changing its profile with each errant wind.
"I like trying out new designs, and I change the display often," says Yarrow. "I'm a photographer now, and I even made a whirligig out of photographic paper." He points to a recently-published book, "Voices from the Appalachian Coalfields". "I took the photos for the book," he remarks. "It was an historic family project."
The wind spinners along the fence are outlined by white pear and pink magnolia blossoms, giving a festive aura to the street. Next door, at 3665 S.E. Raymond Street, Allen Kennedy has mounted two unique metal globes in his front yard. "Both were made by Sellwood metal sculptor Francisco Salgado, who created those big red metal sculptures you can see at S.E. 16th and Tacoma Street," he says.
Kennedy continues, "Salgado made the large blue metal globe sculpture with hovering white angels that's over under the magnolia tree. When I put up the milepost in my front yard, he offered to make me a metal globe for the top. Since the post lists the mileage to all the special places my family and I have visited, it's a meaningful travel symbol."
While Yarrow enjoys the elements of wind, color and motion, Kennedy appreciates the opportunities of global travel. Both present a fascinating parade of garden ornaments to delight passers-by this time of year.
---
Click on this announcement to visit the Eastmoreland "events" page
Southeast Events and Activities
JUNE 28

Red Cross blood drive in Woodstock today:
Donors are needed for the Red Cross Bloodmobile visit today at Woodstock Bible Church, 5101 S.E. Mitchell Street, from 2 to 7 p.m. Walk-ins are welcome, but – to prevent having to wait – sign up online at:
http://www.redcrossblood.org
JUNE 29
"Ready, Set, Light Speed!" family art activity:
Use the Force to create a galaxy far, far away – by stenciling your own unique star design onto an eco-friendly tote bag. "Decide you must: A favorite Star Wars character, planet or vehicle to trace." This intergalactic accessory is the perfect collector of summer reading books to help you get "Ready, Set, Read!..at Light Speed!" 1-2:30 p.m. this afternoon at the Woodstock Branch Library, S.E. 49th at Woodstock Boulevard. Free tickets available 30 minutes in advance.
JULY 1
OMSI Space Exploration exhibit underway:
From now through January 8, 2017, the Oregon Museum of Science and Industry presents a new exhibition on the challenges and the future of living and working in space. The 10,000-square-foot exhibit features hands-n immersive experiences to give visitors an up-close look at what it takes to live, work, and survive in the extraordinary environment in space. Normal OMSI admission applies.
JULY 4


Eastmoreland Fourth of July Parade:
For the 23rd year, the community 4th of July Parade occurs in the Eastmoreland neighborhood, starting at 11 am at the ccorner of Reed College Place and Rex; the parade proceeds north to Claybourne, and then turns and returns to its starting point – followed by free food and drink. "Come meet your neighbors." More online at:
http://www.eastmoreland.org/events

Oaks Park Fourth of July:
The Fourth at Oaks Park is a Southeast Tradition as far back as anyone can remember. The nonprofit amusement park will open its rides at noon today, and ride bracelets will be valid from then until midnight; roller skating from 1 p.m. to 9 p.m.; live entertainment throughout the day on the Comcast State, with the big fireworks show at dusk. All picnic spaces will be first come, first served; outside food, BBQs, and non-alcoholic beverages welcome, but alcohol and personal fireworks are prohibited, and bags and coolers will be checked. For the Fourth, there will be a gate fee: $5 for age 16 to 61; $3 for seniors 62 and over; $2 for age 15 and younger. Call 503/233-5777 for more information, or go online to www.oakspark.com
JULY 7
Honey Bee Science Discovery Program at Sellwood Library:
This noon, you're invited to a 45-minute free presentation by a young beekeeper on honey bees and the science behind them. The short interactive presentation is followed by hands-on learning stations, including the Honey Bee Discovery Lab. The discovery lab is for children ages 3 years and up, and adults enjoy the lab, as well. Since seating is limited, free tickets will available 30 minutes in advance (11:30 a.m.) – come early to be sure of getting yours. The library is on the corner of S.E. 13th Avenue and Bidwell Street in Sellwood.

JULY 9
Puppet show at Sellwood's "Portland Puppet Museum":
This afternoon at 2, and tomorrow afternoon at 4, the nonprofit Portland Puppet Museum at 906 S.E. Umatilla Street presents a miniature Czech marionette production by Tendrak Theater called, "The Magic of Kindness & Kolaches", which "demonstrates how the younger brother Honza, who cares about others and tries to do his best, is successful in life. His older brother Lukas, who is self-seeking and lazy, has a much more difficult time finding meaning in life. See how they both go about trying to find the magic waters to save their father's life." Fun for all ages. All seats $10. Come early to be sure of a seat.
JULY 10
Portland Bridge Swim starts in Sellwood at 7:30 a.m.:
The annual Portland Bridge Swim is sold out with 80 entries, and the public is invited to be present at the start of this Willamette River race at 7:30 a.m. at Sellwood Waterfront Park, just north of the east end of the Sellwood Bridge, off Spokane Street. They'll be gathering and preparing from 5 to 7:30 a.m. The 11-mile downstream race ends in Northwest Portland. Proceeds from entry fees are donated to nonprofit Portland Riverkeeper.
JULY 13
"Summer Circus Staycation" for kids and families:
At the Woodstock Branch Library, In his hilarious routine, Charles the Clown uses clown and costume books right off the library shelves as guides, while he attempts to transform himself, and everything gets mixed up. It's for kids and families and it's free: 1-2 p.m. this afternoon; seating is limited to come early to be sure of a seat. At S.E. 49th and Woodstock Boulevard.
JULY 16
Woodstock Boulevard Lawn Sale:
All Saints' Episcopal Church is holding a fund-raising Lawn Sale today, 9 a.m. to 4 p.m., in front of the church – S.E. 40th and Woodstock Boulevard. Household goods, vintage, collectibles, and much more.

"Eastside Village PDX" aging-in-place meeting:
This morning, 10 a.m. to noon, there will be a free informational meeting for those interested in the services of local nonprofit Eastside Village PDX – and organization dedicated to providing the services and assistance needed to help seniors "age in place" in their own homes, in Inner Southeast Portland. The meeting will be held at Woodstock Wine and Deli, 4030 S.E. Woodstock Boulevard. All are welcome.

Paper Marbling for adults, in Woodstock:
Ever wondered how to make a unique zig-zag or swirly pattern on a piece of paper? Then this workshop is for you! Join this free class 3-5 p.m. at the Woodstock Library, and end up with a portfolio of marbled paper that you can use to make books or art, write letters, wrap gifts, or frame and enjoy. In use is the traditional Japanese technique of Suminagashi – and have some fun with shaving cream and food coloring, too. Registration required; register in the library or by calling 503/988-5234. The Woodstock Branch Library is on the corner of S.E. 49th and Woodstock Boulevard.
JULY 18
Free backyard habitat certification workshop:
The Sellwood Moreland Improvement League (SMILE) neighborhood association's "Stewardship of Natural Amenities Committee" (SNAC) presents a free backyard habitat certification workshop this evening at 6:30 p.m. at SMILE Station, on the southeast corner of S.E. 13th Avenue and Tenino Street in Sellwood. This will also be useful in preparing to help with the SMILE Project along the Sellwood Gap of the Springwater Trail; for more, go online: http://sellwoodmoreland.org/the-sellwood-gap-project -- and for more information or to RSVP, e-mail: milnere22@gmail.com
Pageturners Book Group meets in Sellwood.
The adult Pageturners Book Group meets at 6:30 p.m. this evening at the Sellwood-Moreland Branch Library for an hour and a half, and it's free. First, read "The Martian" by Andy Weir, then come and engage in stimulating conversation about books. Sponsored by the Friends of the Library. The library is on the southeast corner of S.E. 13th Avenue and Bidwell Street.
JULY 21
"Exploring contradictory attitudes about race, etc."
That's the topic for the July "Breakfast Forum", this morning 7:30-8:30 a.m., at Mt. Tabor Presbyterian Church Library, 5441 S.E. Belmont – organized by Reed neighborhood resident Ann Clarkson. "We see in others, and ourselves, contradictory beliefs and behaviors around race, sex, religion, and other issues. Psychologists have found ways to define, measure, and manipulate racism." The speaker is psychologist Ann B. Clarkson, Ph.D. The Breakfast Forum is an informal group which discusses political issues in respectful ways. Free. No registration required. For information call 503/774-9621.

JULY 23
For kids and teens: "Ready, Set ... Science!
When you exercise and play, your body springs into action! How does your body do it? Try cool experiments to see how your heart beats, your lungs breathe, and your muscles move! Test your reflexes, play balancing games, and use neurons to send a message to your brain! Explore Silly Putty stretches and have fun with Bio-Squares ... then take stuff home to amaze your family and friends! It's free, 1-2 p.m., at the Woodstock Branch Library, S.E. 49th at Woodstock Boulevard. Best for kids in grades 3 and up.
JULY 24
Scrabble at the Sellwood Library:
Attention word lovers: Have fun, 2-4 p.m. this afternoon, while exercising your brain, improving your vocabulary and making new friends by playing Scrabble. Beginning, intermediate, and advanced players are welcome. Free. Bring your own set or use one of theirs. The Sellwood-Moreland Branch Library is on the corner of S.E. 13th and Bidwell Street.
JULY 25
Vacation Bible School this week in Woodstock:
Trinity United Methodist Church offers Vacation Bible School, today through Thursday, 10 a.m. to noon, for children ages 2 to 8. Noon lunch included, and pre-registration is NOT required. For more information contact Barbara Garrett at 503/954-6729. The church is on the northeast corner of S.E. Steele and Chavez Blvd. (39th), at 3915 S.E. Steele. Online at: http://www.tumcpdx.org

JULY 30
City "infill" hearing today at SMILE Station:
The City of Portland is taking a fresh look at the regulations controlling development in single-dwelling zones to ensure that new "infill" housing meets the needs of current and future residents. The project focus is on three primary topics: Size of houses, historic narrow lots, and range of housing types. Information meetings are planned for locations across the city; one will be at SMILE Station, today, from 10 a.m. to noon; 8210 S.E. 13th, at Tenino Street. Everyone in Southeast is invited to hear how the Stakeholder Advisory Group is drafting proposals for the city to consider. You'll have the opportunity to provide input to this process in several ways. For more details, go to: http://www.SellwoodMoreland.org – or: http://www.portlandoregon.gov/bps/infill
Puppet show at Sellwood's "Portland Puppet Museum":
This afternoon at 2, and tomorrow afternoon at 4, the nonprofit Portland Puppet Museum at 906 S.E. Umatilla Street presents "The Swan Prince", which "relates how friends, through spells, protect Prince Radislav from a jealous power-hungry Queen Bozena, who plots to take over the kingdom and how her ambitions backfire. Can a Queen outwit the King and his son the Prince, to rule the kingdom? How do potions and transformations work? A Prince looking for true love in a Princess – can he find one?" Fun for all ages. All seats $10. Come early to be sure of a seat.
SCROLL DOWN FOR THE LIST OF COMMUNITY HOTLINKS -- AND USEFUL, AND JUST PLAIN FUN HOTLINKS -- IMMEDIATELY BELOW!
Useful HotLinks:
Your Personal "Internet Toolkit"!


Charles Schulz's "PEANUTS" comic strip daily!

Portland area freeway and highway traffic cameras

Portland Police

Latest Portland region radar weather map

Portland Public Schools

Multnomah County's official SELLWOOD BRIDGE website

Click here for the official correct time!

Oaks Amusement Park

Association of Home Business (meets in Sellwood)

Local, established, unaffiliated leads and referrals group for businesspeople; some categories open

Weekly updates on area road and bridge construction

Translate text into another language

Look up a ZIP code to any U.S. address anywhere

Free on-line PC virus checkup

Free antivirus program for PC's; download (and regularly update it!!) by clicking here

Computer virus and worm information, and removal tools

PC acting odd, redirecting your home page, calling up pages you didn't want--but you can't find a virus? You may have SPYWARE on your computer; especially if you go to game or music sites. Click here to download the FREE LavaSoft AdAware program, and run it regularly!

What AdAware doesn't catch, "Malwarebytes" may! PC's--particularly those used for music downloads and online game playing--MUST download these free programs and run them often, to avoid major spyware problems with your computer!

Check for Internet hoaxes, scams, etc.

Here's more on the latest scams!

ADOBE ACROBAT is one of the most useful Internet document reading tools. Download it here, free; save to your computer, click to open, and forget about it! (But decline the "optional offers" -- they are just adware

Encyclopedia Britannica online

Newspapers around the world

Stain removal directions

Convert almost any unit of measure to almost any other

Research properties in the City of Portland

Local source for high-quality Shaklee nutritionals

Note: Since THE BEE is not the operator of any of the websites presented here, we can assume no responsibility for content or consequences of any visit to them; however we, personally, have found all of them helpful, and posted them here for your reference.


---
Local News websites:
The news TODAY

Local News Daily.com

KATU, Channel 2 (Digital/HDTV broadcast channel 43)

KOIN, Channel 6 (Digital/HDTV broadcast channel 40)

KGW, Channel 8 (Digital/HDTV broadcast channel 8)

KPTV, Channel 12 (Digital/HDTV broadcast channel 12)

KRCW, Channel 32 (Digital/HDTV broadcast channel 33)

KPDX, Channel 49 (Digital/HDTV broadcast channel 30)

KPAM 860 News Radio



---