More stories from February's issue of THE BEE!
This public forum drew a crowd of some four dozen to the SMILE Station in Sellwood. (Photo by David F. Ashton)
SMILE Housing Solutions Committee Chair Tom Hickey provided an overview of the topic. (Photo by David F. Ashton)
SMILE hosts public forum on homelessness solutions
By DAVID F. ASHTON
For THE BEE
As many as fifty people came to see and hear presentations about homelessness during the regular monthly General Meeting of the Sellwood Moreland Improvement League (SMILE) neighborhood association, at SMILE Station in Sellwood, on Wednesday evening, January 4.
The major segment of the meeting was hosted by the new SMILE Housing Solutions Committee Chair, Tom Hickey, who provided an overview of the topic.
"Let me start out by first saying that we have no solutions," Hickey began. "We're trying to educate ourselves [the committee] and our community, on the complexity of the problem. And, we're bringing to it the understanding of the needs both of residents in our neighborhoods, and unhoused people, to best find a balance. We have to reach out and find things that will work.
"So far, we haven't got into project-oriented work [because] we don't have enough people yet to carry that weight. But, there are other motivated people, I believe, out in the community, who are looking for ways they can contribute to solving the problem," and he invited them to join the committee. Then Hickey introduced his first guest.
Advocacy organization presents
The speaker introduced was Cole Merkel of the nonprofit organization, "Here Together Oregon".
"We are not the government; and, we are not a direct service provider – we're a policy advocate," Merkel began. "This group came together in 2022, after working to develop the 2020 'Supportive Housing Services' measure many of you voted for."
The audience learned that "Here Together Oregon" is an organization of 250 member organizations – a coalition. "And, I want to be really clear that we're not just a coalition of homeless service providers. We set a very broad table from the beginning – one that includes businesses, and the Portland Business Alliance, too.
"We believe that to attack this broad and entrenched issue, we need bring together all of the advocates – all of the voices, and all the perspectives – to have a say in this, and have a stake in this, because we really are all here together."
"Over the course the next decade it's projected that $2.5 billion will be budgeted to address homelessness in the Metro region of Multnomah, Washington, and Clackamas counties," said Merkel. "Half of that budget goes to expand shelter operations. In 2020 there were 521 shelter beds, by 2022 there were [between] 1,600 and 2,011 beds. The combined organizations are now budgeted to provide 2,600 shelter beds."
Part of what their organization is advocating is expediting moving those living on the street into housing, along with "creative infrastructure and programming", which includes:
Ramping up regional long-term rent assistance program

Increasing the number of "deeply affordable units" by pairing regional long-term rent assistance vouchers with affordable housing bond projects.

Prioritizing converting hotels and motels into housing for the homeless
Another thrust of their efforts is to grow and retain the workforce needed to address the region's homeless crisis, at scale, including:
Support living wages and benefits that ensure service providers can recruit and retain enough staff to reach full capacity.

Grow the "frontline workforce" pipeline – for example: create pilot projects with new and existing programs training people with "lived experience" to become front-line workers.
Learn more about "Here Together Oregon" online – http://www.heretogetheroregon.org
Direct service provider speaks
Next to speak was "Cultivate Initiatives" Community Action & Engagement Director Matt McCarl, who said his group supports people who have been "marginalized; [our goal is] to empower individuals and communities through and inclusive range of services and supports.
This organization was started in 2018, supporting a shelter for homeless military veterans in Outer East Portland – and it later expanded to operate a warming shelter there.
The first of their three program McCarl talked about was their "Menlo Park Village", a temporary transitional shelter with up to 60 pods for adults, located in the back of the TriMet Park & Ride lot in the Hazelwood neighborhood, at the intersection of East Burnside Street and 122nd Avenue.
McCarl then told how his group is now helping people re-enter the workforce through:
An Internship program,

A Community Beautification Team; and.

A Property Stewardship and Development group.
"And, 'community health' is another important part of our mission," McCarl remarked. "Bringing health and hygiene services directly to our neighbors includes a mobile shower and hygiene response program, mobile health services program, street outreach, and providing health services at our Safe Rest Village.
For more information about Cultivate Initiatives, see their website: https://www.cultivateinitiatives.org
If you would like to get involved in exploring the problem of homelessness in Southeast Portland – perhaps by joining this committee – contact SMILE Housing Solutions Committee Chair Tom Hickey, via email – housing-solutions-chair@sellwood.org
---
This car, in which a woman had been living in the 1100 block of S.E. Woodward Street just north of Powell Boulevard, was completely destroyed in an accidental fire on December 16th. The car later turned out to be stolen. (Courtesy of Mark Hanset)
Car fire briefly imperils businesses near Powell
By ERIC NORBERG
Editor, THE BEE
Just after 3 p,m. on Friday, December 16, a woman ran into Hanset Brothers Distributing, at 1105 S.E. Woodward Street just north of Powell, saying she had a small fire in her car, parked outside. She grabbed a wastebasket to fill with water, while a passerby used two of the business' fire extinguishers on the flaming vehicle.
Despite the attempts to extinguish it, the fire grew very quickly, accompanied by pops and small explosions which blew small debris onto the nearby roofs. A call to 9-1-1 quickly summoned firefighters, who soon extinguished the fire – but not before the car was totally destroyed.
Mark Hanset told THE BEE that later, an investigator came by, and mentioned that the car had been a stolen vehicle. By then, the woman who had apparently been living in it was nowhere to be found. There was some fear she might have returned to the car and had not survived, but no body was found in the wreckage.

Hanset, after inspecting the area near the car, reported no damage to the concrete Hanset Brothers facility, just west of Milwaukie Avenue on Woodward – an historic Portland business profiled twice in THE BEE by Southeast Portland Historian Dana Beck.
---
Graded and re-contoured, what was once a street – S.E. Tenino Court – is now a construction path at the Errol Heights Park Project. (Photo by David F. Ashton)
Progress on Errol Heights Park improvements
By DAVID F. ASHTON
For THE BEE
Throughout this Portland winter – despite sleet, snowflakes, and "atmospheric rivers" drenching their work area – the Portland Parks & Recreation (PP&R) contractors have been making progress on the Errol Heights Park Project – just up the hill behind what was once the Franz Bakery Outlet store, on S.E. 45th Avenue, a bit north of Johnson Creek Boulevard.
During THE BEE's mid-January visit to the site, located in the Brentwood-Darlington neighborhood, the work most visible was south of S.E. Tenino Drive, and east of 45th Avenue. Fresh concrete was curing at the "Splash Spot", and at the "Skate Pad". Further south, crews were working on the elevated "Outlook" area that will feature a slide built into the contour of the mound.
Project on schedule
"A lot has happened so far, and construction is on target," PF&R Community Engagement Coordinator Odalis Perez-Crouse said while touring the site. "As you see, work on the play structures is going along well. What isn't visible is the work on the underground utilities that's been completed."
Further south in the 16-acre project, construction in the new "Elevated Walkway" and natural trail areas is also currently underway, Perez-Crouse told us.
The 16,500-sq-ft Errol Heights Community Garden remains intact, with some winter crops growing; but it's now accessed from its western end, because S.E. Tenino Court has been vacated from 49th Avenue to Tenino Street
When the "all new" Errol Heights Park opens to the public this fall on schedule, visitors will enjoy strolling in the restored natural areas, visiting the wildlife viewing spots, bringing a basket to the new picnic areas, and having better ADA access on the trails.
The $12 million for the park's development by Portland Parks and Recreation came from System Development Charges for Parks, Trails, and Natural Areas.
---
In heavy rain, firefighters from several stations in Southeast gathered on December 20th to put out a raging house fire on S.E. 69th in the Brentwood-Darlington neighborhood. (Photo by David F. Ashton)
Despite rain, flames destroy Brentwood-Darlington home
By DAVID F. ASHTON
For THE BEE
In the midst of a pounding rainstorm, a house fire at 6638 S.E. 69th Avenue lit up the night sky in the Brentwood-Darlington neighborhood on Tuesday evening, December 20.
"A bit after 5 p.m., after neighbors came to my door telling me the house behind ours was on fire, I went out to look," a neighbor told THE BEE. "Flames were shooting out of all of the windows. What sounded like small explosions were going off. I don't know if it was firecrackers or bullets or spray cans."
"While I was waiting for 9-1-1 to take my call, fire trucks started pulling up," the witness said. "Within minutes, some [firefighters] were on the roof cutting holes; others were cutting open the back of the house."
Portland Fire & Rescue (PF&R) stations in Lents, Woodstock, and Mill Park were dispatched to the fire at 5:24 p.m. Two Ladder Truck Companies arrived quickly; two Engine Companies sent to the fire pulled up a bit later.
The fiercely-burning flames licked at utility lines. At about 5:30 p.m., the electrical line burned through and fell into the street, sparking and sizzling, and complicating the work of the firefighters.
Once an engine was hooked up to a fire hydrant, and crews pulled out the hoses, some of the Engine Company entered the burning home. Other Ladder Truck Company crew members laddered up to the roof and started cutting "vertical ventilation" holes so hot gasses could escape.
In the yard of the house just one property north, it appeared that firefighters were providing resuscitation to a pet.
By 5:51 p.m. a PF&R Battalion Chief declared the fire to be extinguished, with all crews remaining to make certain there were no remaining embers that could reignite – and also to start the "overhaul" process.
A PF&R Fire Investigator was summoned to the smoldering wreckage. Although we asked, so far Portland Fire has not had any comment about this fire.
---
Students and parents gather at the starting point of Creston School's new bike bus, atop the rainbow mural at S.E. Center Street and 60th Avenue. The group then rides together to the school, making two stops along the way, to collect more riders. (Photo by Paige Wallace)
Creston School launches new student 'bike bus'
By PAIGE WALLACE
For THE BEE
A new "bike bus" is helping kids safely pedal their way to Creston K-5 School, giving students a fun and protected way to get to class.
"It basically functions just like a school bus," explained Emily Essley, the group's organizer and leader – as well as being a parent. "Instead of it being an actual bus, it's a group of kids bike-riding to school together. As you follow the route, you pick up more kids along the way."
The goal is safety, but the "bike bus" also delivers a good dose of fun, according to Essley. "I ride my cargo bike and have music playing, so it's kind of like a little parade on the way to school. The kids just love it! Like, they're completely over the moon. And I love it, too."
Creston's bike bus got rolling in October, and recurred on the second Wednesday of each month -- until this month. It's now on the second Friday of each month -- which, in February, makes it the 10th. Bicyclists meet up at the rainbow mural on S.E. Center Street at 60th Avenue, and ride just over a half mile, with two stops along the way – at Center Street, and at Gladstone Street. Usually about ten children take part, often with their parents biking along. Sometimes kids on scooters or even just walking to school will join in, as the "bus" passes.
This project was born out of Creston's "Safe Routes to School Committee", and the need to help students cross two busy thoroughfares – S.E. Foster Road and S.E. 52nd Avenue. To that end, the parents leading the bike bus wear safety vests and wave flags for drivers to stop, so the children can pedal through at marked crossings. "There is safety in numbers," Essley remarked. "The bigger the number of kids riding the route, the more obvious it is that there's something that nearby drivers need to be aware of."
Essley, an avid cyclist, was inspired to head up this new project after learning about a Northeast Portland bike bus that draws hundreds of riders. She wanted to offer the same opportunity for students like her daughter – Lily Essley, a Creston first grader. And it's working out splendidly, according to Lily. When asked what she thinks of the bike bus, she exclaimed, "It's all about having fun with your friends, and you get to ride your bike to school!"
Others agree: "It's good for exercise!" third grader Sophie Diaz raved, as she waited alongside her mom for the December ride to start. That morning dawned foggy – but the "bus" rolls, rain or shine. Since Essley was out sick that day, another parent took over the driver's seat. It's that kind of cooperation that makes this enterprise more than the sum of its bicycle parts. "The bike bus is nothing, without the community of people doing it," Essley said of her fellow cyclist parents.
All Creston students and parents are welcome to join the bike bus. Essley recommended following the Facebook group called "Creston School SE Center Street Bike Bus", where she has posted the route map and schedule, and where she will continue to provide timely updates.
---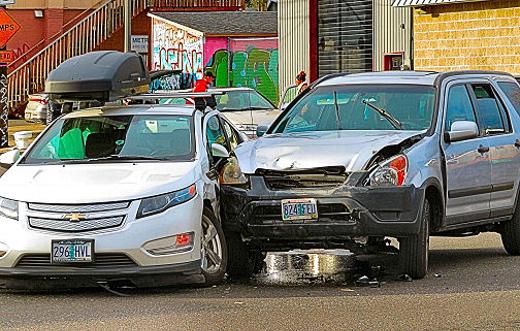 82nd Avenue was shut down for half an hour at Duke Street when this T-bone crash occurred on January 3rd at that intersection. Both cars were disabled and had to be towed away, but there were no injuries. (Photo by David F. Ashton)
Two-car smashup stops 82nd Ave. traffic in Brentwood-Darlington
By DAVID F. ASHTON
For THE BEE
An intersection crash involving two vehicles on Saturday afternoon, January 3rd, closed down all traffic for a half an hour on S E. 82nd Avenue of Roses at Duke Street.
East Precinct officers responded to the possible injury accident at 1:42 p.m. Upon arriving, they found what appeared to have been a Honda CR-V Sports Utility Vehicle heading south on S.E. 82nd which had broadsided a Chevrolet Volt sedan on the driver's side, as it was driving east from Duke Street.
The impact set off the safety air bags on the Chevy Volt, but apparently not on the SUV. Although the driver's door of the Volt was pinned shut, the driver had been able to escape the car through another door.
Officers at the scene determined that none of those involved in accident required hospitalization.
That intersection is controlled by a traffic light, and apparently one of the two drivers must have run the red light. But because officers weren't been able to find any witnesses to the smashup other than those involved, no citations were issued.
---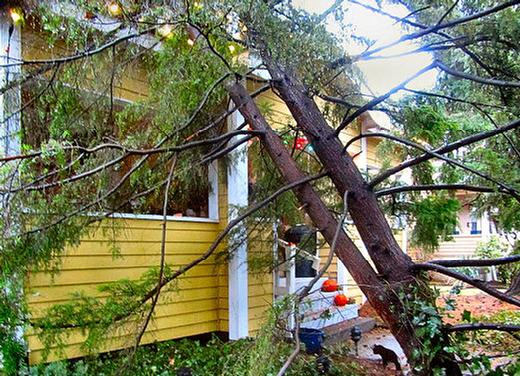 On December 27, 2022, an "atmospheric river" wind and rain storm not only gave us the heaviest rainfall of the year, a late morning ferocious wind gust blew this twin-trunk hemlock down onto a Westmoreland home. Trees, branches, and utility poles were falling all over Southeast at about the same time! (Photo by Eric Norberg)
Keeping a weather eye on Inner Southeast Portland
By ERIC NORBERG
Editor, THE BEE
We began keeping daily precipitation records for Inner Southeast in 1997, and our first full year of taking readings was 1998. So, at the end of 2023, we will have a quarter century of these records. What do we have for 2022?
The total precipitation for the year was 43.88 inches, which includes our snow and ice for the year – .22 inch (most of it as snow, melted for measurement) on December 4th; and a whopping .52 inch as sleet (also melted for measurement) on December 23rd. The 43.88 inches for the 2022 is about five inches higher than our rain total for 2021.
As usual, a substantial part of the annual precipitation total fell on just a handful of days. There were only eight days all year in which the daily rain total (measured at 4 p.m. each day) tallied over one inch – but those days gave us a combined total of 12.47 inches all by themselves. The wettest day of the year was December 27 (2.31 inches), and the second-wettest day (2.25 inches) was at the very start of the year, on January 3rd!
Is there a trend in our rainfall figures here that would provide us a trend for tracking climate change? Not so far. In 1998 the annual accumulation was 47.63 inches, about four inches more than 2022. The lowest annual rainfall in this period was 28.89 inches in 2013; the highest annual rainfall was 59.29 inches in 2012. That's right – the highest and lowest rain years in 24 years were back-to-back!
In the case of 2022, we accumulated the highest rainfall total since 2017 – when the total was 52.28. The average rainfall over the whole 24 years was about 41 inches.
So, no real trend – we have wet years and dry years, and so far no real indication of more or fewer of them as time goes by. Does that tell us anything about what to expect in 2023? Actually, not a darned thing! But we'll continue to report in THE BEE on whatever weather comes our way.
---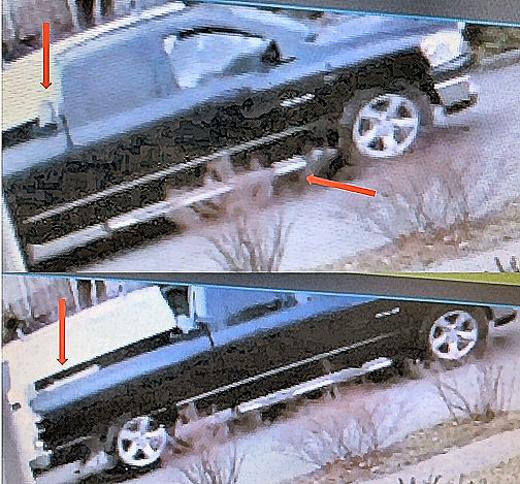 Police say this vehicle, caught on a security camera, is of interest to them in their investigation. (Security camera images from PPB)
Strange attack: Reed man shot answering door at his home
By DAVID F. ASHTON
For THE BEE
Just as the forecast sleet storm began on Thursday evening, December 22nd, a man answered a knock on his door on S.E. 34th Avenue, just north of Steele Street – and when he opened the door he was shot several times.
Central Precinct officers responded to the incident at 4:03 p.m., and found the victim, a 47-year-old man, badly injured.
The first-arriving officers used their trauma first-aid kits to treat the wounds until paramedics arrived and applied advanced care, and then sent the victim off to the hospital with what were determined to be non-life-threatening injuries.
As the sleet storm set in, members of the PPB's Focused Intervention Team and Enhanced Community Safety Team (ECST) swarmed the neighborhood, going door-to-door, looking for witnesses, or images from security systems or "doorbell cameras".
During the investigation, S.E. 34th Avenue was closed down from Steele to Raymond Streets.
ECST detectives later reported that they think the assailant left in a pickup truck, not yet located. That truck may be a dark blue 2008 Dodge Ram double-cab pickup with a rolled up tonneau cover, a white box in the truck bed, and chrome running boards.
The peculiar crime seemed unprovoked, and is still open and under investigation. If you have any information for investigators that you have not shared with them, including information about that pickup truck, e-mail – crimetips@police.portlandoregon.gov – marking it to the attention of ECST; and refer to Case No. 22-338476.
---
Rita Leonard, with her recovered stolen car, in the Hawthorne neighborhood. (Courtesy of Katie Leonard)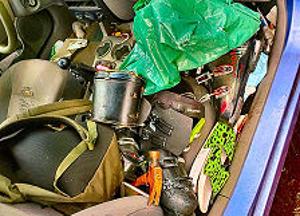 The mess found inside Rita's stolen car, when recovered in the Hawthorne District. (Courtesy of Katie Leonard)
'Stolen car Facebook page' can find missing vehicles
By RITA A. LEONARD
For THE BEE
Car thefts in Portland are at record numbers – they were informally near the staggering number of 12,000 stolen here by last New Year's Eve. All over the city, citizens have arisen in the morning to find that their vehicles, parked the night before at their homes, are now missing.
Understaffed Portland Police in Portland are so busy with shootings, personal injury calls, and other immediate crises, that callers to the PPB non-emergency line (503/823-3333) to report a stolen vehicle or other burglaries can wait on hold for an extended period of time..
Consequently, local residents have banded together on their own to support searches for stolen vehicles, and one of their solutions has been a Facebook webpage, "PDX Stolen Cars". After all, they reasoned, there are websites that give directions on how to steal vehicles, so let's help out the victims.
The strength of "PDX Stolen Cars" is that people keep their eyes peeled all over the city, especially in areas known as being "stolen car dumping sites". They report vehicles that appear to have been abandoned (often due to dead batteries and empty gas tanks) – especially if they appear to have stolen items inside.
The police advise that if you see someone inside such a vehicle, you should not approach, but phone 9-1-1 for a police presence. It's also important to know that even if it IS your vehicle, you cannot just drive it away without first having your "missing vehicle" report cleared, since you could be then arrested for "driving a stolen vehicle," even if it is yours!
This BEE correspondent recently made use of this website to recover her own stolen car, which had been missing for a couple of months.
It's important to be able to post a photo of your vehicle, especially one showing the license plate, to help in identification. It's also helpful to have your title to the vehicle kept safely in an easy-to-reach spot (not in the car!) for when an officer comes to take the missing report, or to later clear it for you Once the "missing" report is taken and given a PPB case number, the search is on. You should also notify your insurance agent of the situation.
In my own case, the car was broken into on the driver's side – breaking the door lock, and interior mirror – and the thief apparently used the car to steal other folks' belongings that could be "fenced" for cash.
My car was finally reported by a homeowner who realized that it hadn't moved from in front of his house for up to three weeks. While the front license plate had been removed, the rear plate and VIN number clearly identified the car as mine. I also carried the title with me. After I reported the missing car as found, with the location (the Hawthorne area) indicated, I had the car towed to my home. There, I cleared out nearly three garbage-cans worth of trash.
While clearing out the debris, I found a large number of stolen drivers' licenses, checks, passports, and such, which I passed on to the police – hopefully to be used to solve other crimes.
Although the car still needs to be thoroughly detailed, and the door lock replaced, I am thankful to have it back with the help of "people helping people" through the local Facebook "PDX Stolen Cars" webpage.
---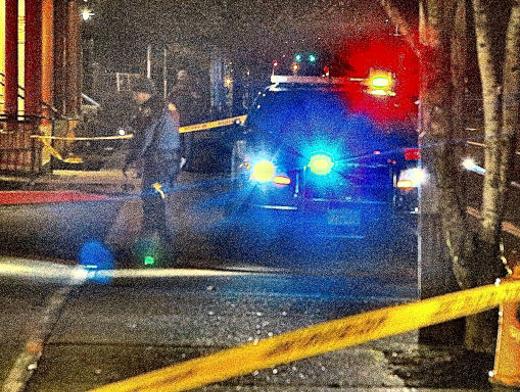 Officers investigated a shooting at a bar along S.E. 82nd Avenue of Roses, just two blocks away from where they arrested a suspect a month later in Mt. Scott-Arleta. (Photo by David F. Ashton)
Man arrested in Mt. Scott-Arleta, a month after bar shooting
By DAVID F. ASHTON
For THE BEE
A man suspected of being involved in a shooting in Inner Southeast Portland was arrested at a Mt. Scott-Arleta neighborhood residence.
It started early Monday, December 12, when – at 1:30 a.m. – East Precinct officers were dispatched to a "Shooting-with Weapon" call outside of the "82nd Street Bar & Grill" in the 5000 block of S.E. 82nd Avenue of Roses.
A sergeant was in the area, and arrived at the call about one minute later. The sergeant and additional officers found an adult male victim with serious gunshot wounds.
The officers performed trauma first aid until Portland Fire & Rescue and ambulance paramedics arrived to provide advanced medical care; they rushed him off to a local hospital. He is expected to survive.

The PPB's Enhanced Community Safety Team (ECST) investigated the case, and learned who was involved in the incident that led to the shooting.
On Thursday, January 12, 2023, ECST detectives, the Focused Intervention Team, the Special Emergency Reaction Team, and the Crisis Negotiation Team served a search warrant at a home in the 5200 block of Southeast 68th Avenue. They made one arrest and seized several firearms and body armor.

Cody M. Ochs, 32, was booked into the Multnomah County Detention Center on charges of Unlawful Use of a Weapon and Felon in Possession of a Firearm
Although, at his arraignment, a judge "released" the two Class C Felony charges against Ochs, at this writing, he was still in custody at MCDC – presumably for having actually shot someone several times, even if that was not originally listed as a charge in the original press release.
The investigation is continuing. If you have information about this December 12th shooting, or any other crimes committed by Ochs, please send an e-mail to
–crimetips@police.portlandoregon.gov
– and mark it to the attention of ECST. Be sure to reference Case No. 22-331432.
---
---
Comments? News tips? Click here to e-mail us!

Note to readers: At some point, this, our original Internet website, may be replaced at this web address by our new website, as part of the Community Newspapers group. At that time, you will still be able to access this, our original -- and smartphone-friendly -- website, if you save this address: www.sePDXnews.com. Right now, it takes you to our newest website; if you ever find our newest website appearing at www.ReadTheBee.com, you will then be able to find this old familiar website at that "sePDXnews" address. And, you'll still have your choice of which one to visit!

READY TO MOVE ON TO THE EDITORIAL, AND THE "LETTERS TO THE EDITOR", ON PAGE 3? CLICK HERE!