More stories from June's issue of THE BEE!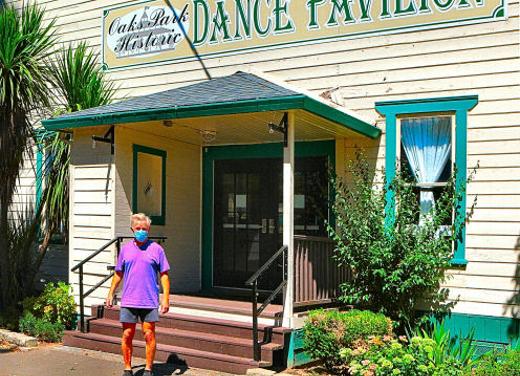 Camel rides anyone? Collin Turkington got his first camel ride at this year's Multnomah County Fair in Oaks Park on Memorial Day weekend. (Photo by David F. Ashton)
Multnomah County Fair at Oaks Park, this year: Camel rides!
By DAVID F. ASHTON
For THE BEE
Cool-but-sunny weather for the opening of the three-day 2016 Multnomah County Fair on Saturday, May 28, boosted attendance – as families from all over the greater Portland area drove to historic, nonprofit Oaks Amusement Park for a day of fun.
It's unusual for a County Fair to be held in the spring – but volunteers from the Friends of Multnomah County Fair say theirs always is, and they're happy that they've managed to keep the tradition going.
"Welcome to the 110th Multnomah County Fair," grinned "Friends of Multnomah County Fair Board" President Larry Smith, who told us that he's been participating as an exhibitor since 1984.
"It has been a struggle to keep it going," Smith acknowledged, after the County Commissioners abandoned funding for the Fair – and actually tried to close it down. "But a group of dedicated volunteers who thought the Fair was important to our community decided to form this Friends group, and give the Fair a life of its own.
"This wonderful tradition of having a County Fair continues, due to the efforts and perseverance of our volunteers," remarked Smith.
A small but dedicated core of 4-H Clubs continue to be an important feature at the fair, Smith told THE BEE, on that sunny first afternoon of the three-day Fair. "This year, the top participants will be able to progress to the State Fair with their entries. They are really working hard to renew and re-establish the 4-H program, after the Multnomah County commissioners cut off its funding for many years."
One of the youngsters, who has become an articulate spokesperson for 4-H Clubs, is seventh-grader Katie Church from the "Corbett Critters" 4-H Club. "I think young people should get involved in 4-H, because it's a really good experience, and a lot of fun," Church smiled, moments after winning a championship ribbon for one of her chickens.
"It is fun going to Fairs, but it's also important, because people who live in the city can come here so they and their kids can see real live chickens," Church remarked.
Speaking of meeting new kinds of animals – new, and a big hit at this year's Fair, were camel rides. "It's not every day you and your family can ride on a real live camel – but it is just one of the many activities at our Fair this year," Larry Smith told THE BEE.
The Oaks Amusement Park midway was open throughout the Memorial Day Weekend fair, with unlimited-ride bracelets costing about the same as just one or two rides were costing at the "fun festival" underway across the river downtown, Smith observed. "Families know this is a clean, safe place to come and enjoy a day together."
Smith had a difficult time picking out his favorite attraction at this year's County Fair. "I like all the activities. There was a constant swirl of entertainment, animals, and crafts – something for just about everyone. Even the crankiest person found something that they liked about the Fair this year!"
Shortly after this year's Fair ended on Memorial Day, the Friends of Multnomah County Fair gathered to elect a new seven-member Board of Directors, and to start planning the 111th Multnomah County Fair, to be held at the end of May next year. "We're looking for volunteers, in any capacity. Check our website, and learn ways that you can participate!" Go to: http://www.multnomahcountyfair.org
---
Just east of S.E. 82nd Avenue, not long after the removal of some 150 homeless camps in May, "campers" were already moving back in along the Springwater Trail. (Photo by David F. Ashton)
Homeless camps swept from Springwater Trail, for now
By DAVID F. ASHTON
For THE BEE
Some 150 homeless camps, housing as many as 450 people, were removed along the Springwater Corridor Trail on either side of 82nd Avenue of Roses, in the Brentwood-Darlington neighborhood, as part of an organized cleanup effort on May 3rd.
Because of signs posted to warn of the impending action, many of the campers had left before Multnomah County, the City of Portland, and police and contract workers moved in to clean up the area.
"There's just a large number of people here, and no simple solution; we're talking about a lot of people," said Portland Police Bureau East Precinct Neighborhood Response Team Sergeant Randy Teig. "And then, there's mental health issues, addiction issues, and sometimes both issues with the same person."
In April, "Cartlandia" owner Roger Goldingay joined the Portland Business Alliance, Pearl District Neighborhood Association, and other groups, as plaintiffs in a 15-page lawsuit filed against the City of Portland and Mayor Charlie Hales, seeking to strike down Portland's acceptance of homeless camping.
A few days after the camp cleanout, Goldingay spoke with THE BEE, as he was helping move a new food cart inside to join the other 34 vendors at Cartlandia, along S.E. 82nd.
"We've been trying for six months to get the city and county to do something to clean out this area, before we joined in the lawsuit," Goldingay remarked. "The camping created public health problems, crime, and issues of sanitation; you just can't put 400 people in a small area with no sanitation facilities and no clean water."
On the Springwater Corridor Trail, from S.E. Harney Street to 82nd Avenue of Roses, along the fence adjacent to Cartlandia, there were at least 20 camps in operation before the clean-up took place, Goldingay pointed out. "In this small area, there was some fairly intense criminal activity; so much so, it was recognized as a public safety threat."
Because of hypodermic needles and other hazardous waste along the trail, the cleanout took several days. But after it was done, Goldingay said, the food cart owners became less uneasy. "We have had far fewer incidents," he said.
"I feel great empathy for homeless people," Goldingay said. "I just don't believe that camping is a humanitarian solution to the problem. It really doesn't do anyone any good.
"I think we need to get these people into housing – those that are willing go, and to receive services. I firmly believe that some people don't wish to have housing and services; but for those who do, they need and deserve help."
For now, he is watching the situation, Goldingay commented. "We can see them moving back onto the trail, east of 82nd Avenue, right now."
---
25-year-old Edward E. Jones Jr. faces several felony charges in the Creston-Kenilworth neighborhood shooting, categorized by police as a "domestic violence" crime. (MCDC booking photo)
Creston-Kenilworth gunman nabbed after search
By DAVID F. ASHTON
For THE BEE
Neighbors said they heard "at least" one gunshot before a woman came staggering out of an apartment unit at 3600 SE 28th Place about 3:00 p.m. on May 25.
The area was swiftly cordoned off by Central Precinct District officers, and an hours-long manhunt began for the assailant, with as many as 14 police units involved.
"At large is an African American male in his 20s, wearing a blue T-shirt with white numbers on it and a white T-shirt underneath, medium build, armed with a handgun," said Portland Police spokesman Sgt. Pete Simpson.
"A 20-year-old female, who is in critical condition at a Portland hospital with life-threatening injuries, was shot at least once inside the apartment, and was able to make it outside," Simpson said.
Due to the severity of her injuries, Simpson said, added, PPB Homicide detectives were called to investigate the scene.
Later Simpson revealed that investigators had come to believe that the woman was not a resident of the apartment, but apparently was an acquaintance of the suspect, and he described the scene of the crime as "very bloody".
The suspect was not immediately found, but late on May 27th police announced the arrest of Edward E. Jones Jr., a 25-year-old male, on charges including Attempted Murder, Assault I, Unlawful Use of a Weapon, and Felon in Possession of a Firearm. He is still in custody in lieu of $510,000 bail.
The victim remains in critical condition.
---
The "person of interest" in the small bomb blast is shown in this store surveillance image. (Photo courtesy Portland Police)
Small bomb rocks Freddie's at Foster Road and 82nd
By DAVID F. ASHTON
For THE BEE
Saturday shoppers were startled by what officials call a "small explosion" at the Fred Meyer store at 82nd Avenue of Roses and S.E. Foster Road, just before noon on May 21.
The blast was in Aisle 13, among small travel-size items that were on display. East Precinct officers and Portland Fire & Rescue crews responded.
"The Metropolitan Explosives Disposal Unit confirmed that the explosion came as a result of a small explosive device," reported Portland Police spokesman Sgt. Pete Simpson.
Because firefighters found no risk to the shopping public, the rest of the store remained open while Arson Squad Investigators examined the blast site. "There were no injuries, and there was no major damage to the store," Simpson said.

On June 1, investigators released a surveillance image of a "person of interest" in the bombing. The person appears to be a white male in his late-20s, thin build, wearing an oversized green jacket and dark pants.
If you might have an idea who the suspect is, you can submit an anonymous tip for investigative follow-up, in any of three ways: Text CRIMES (274637), and type 823HELP, followed by the tip. Or, go online at http://crimestoppersoforegon.com/submit_online_tip.php – or call 503/823-4357.
---
With arms swinging to build momentum, these racers from the Auburn Skate Club are trying their best at the Regional Competition race, held at the Oaks Park Roller Rink. (Photo by David F. Ashton)
Speed racers compete regionally at Oaks Roller Rink
By DAVID F. ASHTON
For THE BEE
"Team Oaks", a competitive inline speed-skating racing team based at the Oaks Park Roller Rink, were hosts to their sport's regional championships on May 21.
"Speed-skating teams from all over the Pacific Northwest are here today, trying their best to qualify for the USA Roller Sports National Championships, held in July in Lincoln, Nebraska," observed the Oaks' Head Coach Derek Meade.
In heat after heat, racers from 13 teams, grouped in age categories, raced counter-clockwise around the rink, hoping to exceed their previous times. We watched youngsters energetically skate the rink – but the local teams also have members as old as 60+ years, Meade told THE BEE.
"Those who qualify for Nationals will start training for those races, which is where the national champions are determined, he explained. "If national winners are chosen for world competition, they'll continue on for that."
Although it looks like an Olympic sport, it is not, Meade said. "But there's a lot of crossover between the sports. Record-setting Olympic ice speed-skating medalists Apolo Ohno, Derek Parra, K. C. Boutiette, are all former roller skaters."
We haven't yet gotten a final report on how well the 16 members of Team Oaks did; but the competition was tough, because some "World Team" skaters dropped into their divisions.
---
Emergency first responders rushed to the scene of an accident involving a truck that hit a pole and rolled over. (Photo by David F. Ashton)
Distracted driver flips vehicle on Foster Road
By DAVID F. ASHTON
For THE BEE
When a sports utility vehicle swerved, flipped, rolled, and snapped off a wooden utility pole like a twig, S.E. Foster Road was closed down at 59th Avenue. It happened just after 11 a.m. on Wednesday, May 25.
A witness said the SUV had been westbound on S.E. Foster Road when the wreck occurred.
"I was legally parked on the street," Jose Garcia told THE BEE. "I saw it coming at me. It looked like the driver wasn't paying attention; and he looked up and saw my truck and swerved, flipped in the air, and rolled into the pole."
The Woodstock Fire Station's Engine 25 arrived to assist with what Portland Police Bureau officers had expected would be a trauma injury wreck, although in the end there turned out to be no injuries.
When the driver was helped out of his wrecked vehicle, he muttered to Garcia that the accident was his fault – because he'd been parked on the street!
S.E. Foster Road was closed for several hours while PGE "Eagle" fast-response crews assessed the damage and began to replace the utility pole, which had been left hanging from the wires above.
---
Leaders at the Children's Healing Art Project, newly relocated to Sellwood, are – from left – Executive Director Sarah Panetta, Art Club Coordinator Grace Littig, and Program Manager Faye Pendergrass. (Photo by Rita A. Leonard)
"Children's Healing Art Project" moves to Sellwood
By RITA A. LEONARD
For THE BEE
The "Children's Healing Art Project" (CHAP) has moved to 8065 S.E. Grand Avenue, #160, at the east end of the Sellwood Bridge.
Executive Director Sarah Panetta explains, "We bring the healing power of art to children and families facing medical challenges. We have a mobile team of teaching artists who work in local hospitals, clinics, and community art spaces. At our regular hospitals we have carts stored on-site, and patients know when we will be there."
The unique program was founded in 2006 to provide free support to children in need, through in-hospital programs, Art Club, and outreach. "It helps patients and family members cope, encourages compliance with treatment plans, and increases self-confidence," says Panetta. "The activities also encourage self-expression; reduce stress, pain, and isolation; and promote quality of life."
The organization is partially funded by fees for services and parties hosted on the site, but mostly through fundraisers and donations. An annual auction, "CHAPlandia," raises both funds and awareness of the project. This year's auction will take place downtown in the Pearl District on November 5.
"When we moved to Sellwood," reveals Panetta, "St Agatha's hosted an Art Drive for us. CHAP also collaborates with other organizations to share donated materials, if we can't use them."
Program Manager Faye Pendergrass works to organize communication and volunteers. "We currently have seven employees and some 200 part-time volunteers, although many of our business partners also supply volunteers," she remarks. "Volunteers in the hospitals require specific training, since fragile families need stable and committed volunteers. Teaching artists only work part-time, since the work can be emotionally intense. Many teens work with us, and are very good with the children.
"We offer classes such as jewelry-making, collage, sewing, watercolors, fabric painting, puppets, masks, clay, and photography. We even partner with a farmer who has a gentle white horse that allows children to hand paint on its sides!
"Crafts include yarn, glitter, sequins, colored tissue paper – whatever the children request. We also have a 'Wish List' on Amazon." Pictures of many finished crafts are posted on CHAP's Facebook page.
Art Club Coordinator Grace Littig helps outpatient kids, siblings, and adults, to enjoy the two-hour classes, and the summer and holiday workshops. "CHAP's Mobile Art Studio features an ever-changing array of art supplies and projects, and 'teaching artists' who are trained to spark imaginations," says Littig. "All activities are based on the needs and choices of children and their families. Through OHSU we serve everyone they serve, from Oregon, Washington, Idaho, Montana, and Alaska."
Donations of art supplies and funds are always welcome, and the staff is happy to explain the program. Call 503/422-1893 for information, or go online: http://www.chap.name. "The neighborhood here is so welcoming," smiles Panetta. "We have a partnership with 'Collage' on S.E. 13th Avenue, and we have regular volunteer groups from 'Creative Goal Solutions'. We would also like to connect with local schools.
"CHAP brings so much joy and satisfaction; we're pleased to provide a fun and empowering service to families."
---
Fire crews pulled a hose in through the front door, and quickly extinguished the second-story blaze, its cause apparently smoking-related. (Photo by David F. Ashton)
Woman injured in suspected smoking-related fire
By DAVID F. ASHTON
For THE BEE
It only took twenty minutes to put out a fire in the second story of a house at 5920 S.E. Center Street, reported at 6:40 p.m. on Monday, May 2.
Crews from Woodstock's Engine 25 and Truck 25 were the first to arrive, and called back to dispatchers that smoke and flames were showing from a window over the home's front porch.
"The second floor of the structure sustained heavy damage from the fire," later reported PF&R Public Information Officer Lt. Rich Chatman.
"It's believed that two individuals were home when the fire broke out," Chatman said. "When the fire broke out, a woman was trapped in an upstairs bedroom. A man, who was outside when the fire broke out, went in to help her."
Firefighters made sure there were no other people in the building as they extinguished the blaze.
Just down the street, the victim was treated for smoke inhalation by AMR paramedics in an ambulance.
"The fire may have been caused by improperly discarded smoking materials," Chatman said, but that determination was preliminary at that time. No loss estimates were available.
---
Eastmoreland resident, and Portland's Mayor, Charlie Hales greeted neighbors as he walked along the 82nd Avenue of Roses Parade route this year. (Photo by David F. Ashton)
First Rose Festival event: 82nd Avenue Parade
By DAVID F. ASHTON
For THE BEE
Those who have been involved with it over the years say it's hard for them to believe that they were already hosting the tenth annual 82nd Avenue of Roses Parade, as they rallied the entries on the morning of Saturday, April 30. It is the first event each year of the Portland Rose Festival, and it takes place in Inner Southeast Portland.
In the Eastport Plaza parking lots, at S.E. Holgate Boulevard and 82nd, entries for the parade began to gather. Some groups set about decorating vehicles and others were donning costumes. Drill teams stretched, and bands warmed up, for the two-mile march through Southeast Portland.
A core group of about a dozen volunteers start working on the parade effort as early as September each year, revealed organizer Dianne Gill, Eastport Plaza's Manager.
"Today, we have more than 100 volunteers helping in various ways to stage the parade, and assist along the route," Gill said.
The tenth annual parade featured 78 entries this year, plus about a thousand walkers, and 120 floats or vehicles.
"It's an amazing accomplishment for the business association, the neighbors, and all the volunteers, to have this parade take place for 10 years," Gill remarked. "I believe that this area has embraced the idea, and now looks forward to and embraces the parade."
Portland Mayor Charlie Hales was on hand, smiling merrily as he walked in the parade and greeted those along the route.
"What brings me out here is simply that this is a great community event," Hales told THE BEE. "It's clear that residents and businesses along 82nd Avenue of Roses care a lot about the area.
"What I like best is how this event brings us together as one community," Hales reflected. "We're now so diverse a city; you walk along the street and you see people from 25 different countries in just a few blocks. This is the 'new Portland'; it's about everyone coming together as one community."
After the parade, Gill told THE BEE that volunteers embedded in the parade counted the spectators along the route; and they estimated about 9,000 people came out to see and enjoy the colorful procession.
"What's best for me is that this helps with the revitalization of Southeast Portland," Gill said. "Everyone puts out a good effort to create this wonderful springtime Rose Festival event."
---
With a smashed Jeep and a bashed Ford Focus in the street, AMR paramedics stood by with a gurney – in case one or both drivers needed medical transport. It turned out that none did. (Photo by David F. Ashton)
Rear-ender on Duke Street brings out ambulance
By DAVID F. ASHTON
For THE BEE
A rear-end collision on S.E. 52nd Avenue at Duke Street brought out Woodstock's Fire Station 25 paramedics, an ambulance, and police at 1:24 p.m. on April 28.
Why the crash took place remains unclear. A red Ford Focus was heading northbound, stopped or slowing for the intersection, when it was soundly struck from behind by a Jeep Unlimited "Bigfoot Edition".
The impact did little to the Jeep, but the back end of the Ford sedan was caved in, and the rear window shattered.
Paramedics checked over the driver of the Ford, who later declined transportation to a local hospital. Since it was adjudged there was no injury involved, under current city policy the accident was not investigated further, and was left to the insurance companies involved to resolve.
---
Sellwood resident, and frequent author, Joe Kurmaskie displays some of his biking books in front of The Blue Kangaroo coffee shop on S.E. 13th in Sellwood. (Photo by Rita A. Leonard)
Sellwood's Joe Kurmaskie publishes seventh book
By RITA A. LEONARD
For THE BEE
Today, almost anyone can publish a book in this online world. But publishing seven of them – that's an accomplishment. You are an author for sure!
Longtime Sellwood resident and bicyclist Joe Kurmaskie, known as "The Metal Cowboy", has just published that seventh book.
All of these books have dealt with the adventures he's had on two wheels while traveling around the world – traveling 230,000 miles; and to 30 countries, so far. But his new book, "A Guide to Falling Down in Public", has a different focus and purpose.
In 2015, Kurmaskie was diagnosed with hemochromatosis, a rarely-identified but often deadly genetic disease that allows excess iron to build up in the body.
"I had a good doctor, and a bit of luck," he says. The book tells of his journey back to health, and his mission to make people more aware of this potentially life-threatening condition.
Hemochromatosis is a genetic mutation dating back to the Viking era. It prevents white blood cells from storing iron, causing the mineral to be stockpiled in other body organs. The condition is rarely identified until middle age, when it has already begun to damage major organs such as liver, heart, and pancreas.
The way to treat it, believe it or not, is through blood-letting – by which the body pulls iron from its contaminated organs. Kurmaskie donates blood once a week, which is good both for himself and for the blood bank.
As a former newspaper editor and magazine writer, Kurmaskie loves interacting with an audience. "I have a great time being a raconteur," he says.
"I love being a writer, adventurer, and entertainer. At 'book talks', I don't read; I perform!"

He appeared at several local events in May, and will be part of an "authorfest" at the Sellwood toy store "Oodles 4 Kids", on S.E. 13th, on June 25. He's also organizing a similar event at the Moreland Farmers Market for this summer called "Fresh Local Words".
Kurmaskie's books compile some of the 5,000 narratives and short stories he's written. For a sample of his work, check out "Bicyclist vs Elephant" on YouTube – or go online to: http://www.metalcowboy.com.

He also directs a day camp at the Sellwood Community Center. "It's for kids ages 8-14 years. We bike everywhere," he grins. "A portion of my book profits is slated for Camp Creative and, http://www.ironitout.org – an organization that promotes awareness and strategies for battling Hemochromatosis.
"Hopefully," he reflects, "These stories will also inspire you to leave your couch and take up biking – it's a lot of fun!"
---
Woodstock firefighters, shown in their new uniforms, tell THE BEE they're pleased to be riding the new Ladder Truck 25. (Photo by David F. Ashton)
Station 25: Fighting fires with style, and a new truck
By DAVID F. ASHTON
For THE BEE
You won't see it when Portland Fire & Rescue (PF&R) firefighters are wearing their "turnout gear" – the heavy personal protective suits worn over regular uniforms while fighting a fire – but PF&R crews around the city have been issued new uniforms.

The new Fire Attire is already in use at Woodstock's Station 25 on S.E. 52nd Avenue, just north of Holgate.
"These new uniforms provide enhanced safety, greater durability, and a more professional look," remarked Portland Fire Bureau spokesman Lt. Rich Tyler.
The new uniform consists of black pants and a black button-up shirt, replacing a uniform standard that had been in place for over three decades. The uniform also brings the Bureau more fully into compliance with the National Fire Protection Association standard, too, Tyler added.
"The new uniforms are made of DuPont 'Nomex' fabric, a material that provides a greater fire resistance than the polyester blends that we've worn in the past," commented Woodstock Station 25 "B-shift Captain" Jeromy Paul. "That fire resistance is a big plus for the new clothing. That is a big plus to the firefighters."
While good-humoredly modeling the new uniforms for THE BEE's lens, the Station 25 crew also showed off their new vehicle – less than a month old – Ladder Truck 25.
The new "tiller" ladder rig, called the Arrow XL, was built by Pierce Manufacturing and is pulled by a new tractor. The "tiller" feature describes the steerable rear wheels of the truck, controlled by a firefighter sitting above the rear of the vehicle.
"The truck features state-of-the-art electronics and controls, emergency lighting, and advanced capabilities," Tyler said of it.
There are firefighting rigs, Tyler noted, that have an aerial ladder built on a large all-in-one truck chassis; but the combination of a cab and a rear-steering "tiller" lets rear drivers help the long units more easily snake through narrow residential streets and business alleys and turn in small intersections.
The new uniforms are being issued to firefighters throughout Portland.
---
Police investigated the collision, as the rider tried to put his bicycle back together. (Photo by David F. Ashton)
Truck collides with bicycle rider on S.E. 52nd
By DAVID F. ASHTON
For THE BEE
A bicyclist riding northbound on S.E. 52nd Avenue – a street now considered by the city to be one of Southeast's "bicycle boulevards", was stuck and knocked down by a Ford pickup truck at about 7 p.m. on May 2.
"It looked like the truck came out kind of fast [from S.E. Malden Street], and clipped the bike rider; he went down pretty hard," remarked Eddie Miller, who told THE BEEhe was across the street waiting for a bus at the time.
The driver of the truck remained at the scene while Portland Police Bureau officers came to investigate, and paramedics from Westmoreland's Fire Station 20 checked over the crash victim for injuries.
Although the incident was listed as an "injury accident" the bike rider was not transported for medical care. He did walk his bicycle away from the scene, now longer able to ride it. There has been no information released on any citations that may have been issued.
---
36-year-old Brandon David Lamb, suspected of the two Plaid Pantry robberies as well as other offenses, awaits trial on a variety of charges. (MCDC booking photo)
"Plaid Bandit" strikes again – one time too many, perhaps
By DAVID F. ASHTON
For THE BEE
Twice in May, an armed robber stuck up a Plaid Pantry store – the first time was at a store in North Portland on May 7.
The second robbery took place at the store at 6440 S.E. 82nd Avenue of Roses, at Duke Street, in the Brentwood-Darlington neighborhood, at about 2:00 a.m. on May 24.
Portland Police Bureau (PPB) East Precinct officers who responded to the store learned from an employee that the suspect was armed with a handgun in his waistband during the robbery.
After obtaining an undisclosed amount of cash, he left the store, direction unknown.
"On May 26 East Precinct officers stopped a stolen car near 154th Avenue and Harrison Street in the Centennial neighborhood," later reported Portland Police spokesman Sgt. Pete Simpson. "Officers learned that Robbery detectives had identified the driver as the suspect in the convenience store robberies."
The man officers arrested was 36-year-old Brandon David Lamb. "Detectives were able to develop Lamb as the suspect, independently of anonymous tips," Simpson remarked.
Lamb was booked into the Multnomah County Detention Center (MCDC) at 1:01 p.m. on May 26, on charges of Robbery in the Second Degree (three counts), Unlawful Use of a Motor Vehicle, and Possession of Methamphetamine.
Lamb remains behind bars at MCDC in lieu of $811,000 combined bail.
---
After spraying fire-retarding foam inside the living room and kitchen to smother any remaining embers, the crew of Engine 11 waits for the Arson Squad Investigator to finish examining the burned apartment unit. (Photo by David F. Ashton)
Kitchen fire chars Foster-Powell apartment
By DAVID F. ASHTON
For THE BEE
Preparing breakfast turned into a kitchen fire, at about 7:45 a.m. on the morning of April 25, at a triplex at S.E. 79th Avenue and Mitchell Street in the Foster-Powell neighborhood.
Portland Fire & Rescue (PF&R) Lents Station Engine 11 was first on-scene, and reported seeing heavy smoke and flames coming from the front downstairs apartment in the building.
While some crewmembers began to attack the fire, others searched the building, making sure all residents were out.
Because of the fast response, the fire was quickly extinguished.
Family members waited outside the building, and spoke with an Arson Squad investigator, while the crew of Engine 11 used water from their "booster hose" to activate a "Class A Foam" unit which smothered and extinguished any embers.
"It appears this started as kitchen cooking fire that then extended to the living room," PF&R Public Information Officer Rich Chatman told THE BEE. "There were no injuries related to this fire."
American Red Cross Cascades Region volunteers arrived to provide personal supplies, and to help the residents find temporary shelter.
---
A large Le Roy Setziol carving had been hanging in the now-empty space to which Reed College Director of Communications Kevin T. Myers points. This photo was taken before the piece was recovered. (Photo by David F. Ashton)
Reed College carving stolen – then recovered
By DAVID F. ASHTON
For THE BEE
It was no simple task to dismount and make off with the carved wooden panel artwork by Le Roy Setziol, long part of the entry foyer of Eliot Hall at Reed College, sometime overnight on April 30.
"The building is generally locked, but there were many end-or-the-year festivities taking place on campus," said Reed College Director of Communications Kevin T. Myers. "There were many guests on campus, and activities going on in the center of the building that evening."
College officials suspected that the individuals who took the large, heavy carving – which had been securely mounted to the wall – approached from the middle of the building between Community Safety officer rounds at 10:30 p.m. Saturday night and 12:30 a.m. on Sunday morning.
"It took some doing to get it down," Myers said ruefully, looking at the blank space where the carving had once hung. "We don't know what kind of tools they used, but they also took the mounting hardware with them."
About a possible motive, Myers commented, "We don't know the intention of the individuals that did this, so we don't want to speculate whether or not this was a prank."
The artist whose work it was, called "a composer in wood" by the Portland Art Museum which also displays his works, Le Roy Setziol here had created lyrical sculpture that honored the beauty of wood, a material strongly identified with the Northwest.
"It is quite a blow to the community when something like this happens, because it was given to us by John and Betty Gray, who are benefactors of the college," Myers said.
John D. Gray was a trustee of the college from 1961 until 2006, and with his wife Betty he established the "Gray Fund" in 1992, with the mission of "stimulating cultural, social, and recreational programs of excellent quality".
According to the Director of the Reed College Douglas F. Cooley Memorial Art Gallery, Stephanie Snyder, no other artwork has ever been stolen at the school.
"I think people were kind of shocked that something like this would happen," Myers said.
Whether a botched art robbery or a prank, to general relief the episode ended about 7:00 a.m. when campus security came across the missing carving, little the worse for wear, in "a highly visible place near a campus pathway where it was protected from the elements," Myers said.
"Everything they took away, they brought back – including the mounting hardware!" concluded Myers. "The important thing is that we have the piece back."
---
ANOTHER CRASH AT HAROLD STREET. On Wednesday afternoon, May 25, at about 1:25 p.m., a two-vehicle collision damaged vehicles and partially blocked S.E. Milwaukie Avenue at Harold Street in Westmoreland. Apparently there were no injuries – here, both drivers were seen talking, as one cleared out the back of her car – but both vehicles appeared too damaged to drive. The SUV which impacted the car, and took out the street sign, was parked half a block down Harold, leaking oil. Police arrived, and the intersection was cleared within an hour and a half. On May 30, another crash took place at the same corner – in which a northbound car left the lane of travel and impacted a parked car, and damaged a tree. (Photo by Eric Norberg)
---
Comments? News tips? Click here to e-mail us!

Note to readers: At some point, this, our original Internet website, will be replaced at this web address by our new website, as part of the Community Newspapers group. At that time, you will still be able to access this older, but still operative, website, if you save this address: www.southeastPDXnews.com. Right now, it leads you to our new website. Eventually, it will lead you back to this old one! Both will be up to date and current, and you'll still have your choice of which one to visit!

READY TO MOVE ON TO THE EDITORIAL, AND THE "LETTERS TO THE EDITOR", ON PAGE 3? CLICK HERE!