More stories from December's issue of THE BEE!
Photo by Dan O'Flaherty
Sellwood Bridge in perspective
Several times over the lengthy construction of the new Sellwood Bridge, we have received and printed unique photos by Sellwood resident and businessman Dan O'Flaherty, who regularly kayaks on the Willamette River near and under the bridge.
With the bridge virtually done, O'Flaherty sends us a couple of new photos giving us for the first time an unobstructed view from the river of the new bridge's outline.
It looks just about as iconic as its owner, Multnomah County, had hoped it would – especially with the river smooth enough to give good reflections, as it was here, at dusk on Thursday, October 27 – and under dramatic skies like these!
---
Introducing the evening's session was PCC Structurals' General Manager, Aaron Johnson. (Photo by David F. Ashton)
Air monitoring 'up in the air', at Precision Castparts
By DAVID F. ASHTON
For THE BEE
Since a power failure on May 11, 2011, triggered the discharge of an orange plume of nitrogen dioxide at Precision Castparts Corporation Structurals Large Parts Campus (PCCS), its Brentwood-Darlington neighbors, living up the hill from the plant, have been concerned about potentially toxic air emissions.
The "dialog" held by PCCS officials at the Brentwood-Darlington Community Center on April 10, 2014, did little to calm fears.
About a year later, on March 15, 2015, the Oregon Department of Environmental Quality (DEQ), Multnomah County, and the Southeast Uplift coalition of neighborhoods, convened a meeting at Lane Middle School in which attendees were told that the DEQ was "setting up a plan" to monitor air quality around PCCS.
On May 25 of this year, PCCS invited neighbors to a meeting at a Clackamas hotel to tell about the changes they'd made at facility, and to listen to concerns.
Five months later, on October 24, another meeting was held, and – at the neighborhood association's leaders' request – it was held closer to home, at Lane Middle School.
On the day of the meeting, Oregon Health Authority (OHA) and DEQ put out information that announced, "... regulators will move two of the three monitors located near Precision Castparts Corporation in Southeast Portland, after monitoring has detected stable levels of nickel and other metals, largely below long-term health benchmarks, for several weeks."
This statement caused comment among neighbors arriving for the meeting.
A neighbor who lives about a half-mile from PCCS, Sarah Clark, of a group called "South Portland Air Quality", said she was perplexed about the situation.
"It's good that there is more data available," Clark told THE BEE. "But it's puzzling to us that DEQ has decided to remove one of the three air monitors, and turn off another.
"The air monitor they're leaving in place is the one that has not shown elevated levels of hexavalent chromium and nickel, but the other two [air monitoring] stations have shown elevated levels of these materials," she alleged; "It's a troubling decision by DEQ."
About the low "ambient benchmark" level set by DEQ, Clark commented, "When it comes to hexavalent chromium, which is one of the more toxic substances that we could be breathing, I think 'low is good'.
"We've just seen permanent DEQ rules changed for glass manufacturing companies – this indicates that there is a reason to adjust the benchmarks," continued Clark. "We may not meet them, but it's an acceptable standard to work toward."
As the meeting was about to begin, PCCS spokesman Aaron Johnson said he was hosting the meeting as a continuation of the company's outreach process, during which experts would present data from soil and air monitors.
"Right before the last meeting, we had it done three area emission control upgrades – the new bag houses [industrial filtering systems]," Johnson said. "Now, mind you, we did have 31 bag houses in place already, and these were additional ones. We also put in HEPA [high-efficiency particulate arresting] filters to capture more fine materials from the plant.
"Very soon, you'll see another 'notice to construct' for an additional air emission control upgrade," Johnson added, "We're continuing to do 'the right thing'.
Johnson also mentioned the storm water treatment that had been installed. "It takes all the rainwater and treats it before it goes into Johnson Creek. We're most of the way through the second phase of that. . . Those are the main controls we have put in place since the last meeting."
About the findings released earlier the same day, Johnson commented, "I think 'hopeful' could be a good way to characterize the data. We're going to continue to reduce our environmental footprint, and keep improving."
Lane Middle School was a good location for this meeting, Johnson said, because "Our employees are our neighbors as well. We take the responsibility to be a good steward of the environment seriously."
Brentwood-Darlington Neighborhood Association Chair Lesley McKinley watched the proceedings, which were attended by about 130 people.
"We had a stakeholder meeting in August, with the Woodstock Neighborhood Association, Johnson Creek Watershed Council, and key employees of PCCS," McKinley said. "We asked for better communication, and that it go out to the entire neighborhood in multiple languages, which it did – this is really important to our diverse neighborhood."
About the data being presented, McKinley said speaking as a neighbor and not the association leader, "I think a healthy skepticism is always good in a civic situation, especially when you're dealing with a private company. Our goal is to have clean air, water, and soil."
Several speakers, presenting data in PowerPoint presentations, said that levels of arsenic and nickel had dropped by late summer, but levels of hexavalent chromium had decreased little.
One expert told how PCCS brought on "third-party verification" to test the effectiveness of the company's emission control systems, and how neighborhood representatives were invited witness the DEQ on-site testing on June 21-23 – with the test results submitted to DEQ for review on August 8.
Oregon DEQ Air Quality Monitoring Manager Tom Roick confirmed, "Arsenic is [down] at background levels in the Portland area. Chromium levels haven't changed. It seems that reduction of nickel concentrations have coincided with the implementation of pollution controls."
After the presentations, Sarah Clark challenged Roick, saying, "Tom's assumption could be wrong. Without continuous monitoring from these three different sites, how does DEQ know if the concentration in toxics is going to be at health risk, short-term, or long-term, to the community? We demand that the three monitors remain in place with continuous 24 hour monitoring, and that the data be collected, and be posted at a minimum of once per month, all the way through May, 2017."
"We are leaving two monitors in place," replied Roick.
"But, you're turning one of them off!" rejoined Clark.
"That's true; we have one monitor [at the S.E. 45th Avenue and Harney Street] location where we will continue to get data that will be representative – that [monitor station] will tell us over time about air quality," Roick stated.
As the question-and-answer session began, there were few actual questions asked, but many neighbors made various statements, many of them critical.
Stepping out of the meeting Oregon DEQ Northwest Region Cleanup Program Manager Keith Johnson told THE BEE, "I think what Precision Castparts is doing is working quite well. The additional emission control devices they installed in May brought down the levels of some of the contaminants we are concerned about, particularly the nickel."
As the evening came to an end, after getting an earful from neighbors, DEQ officials said they would consider leaving all three air monitors in place, if PCCS paid the estimated $300,000 in costs to do so.
Just before deadline, THE BEE contacted Oregon DEQ NW Region Administrator Nina DeConcini about continued air quality monitoring at three stations.
"At the meeting, the request was made to continue the monitoring," DeConcini said. "We were not in a position to make a decision that evening, but we all agreed to a continuing dialog. Now, there is one monitoring station running. The other two are idle at the moment – in position, but not collecting data."
The final decision won't be made until they have a "dialog with stakeholders" in the community and the company, DeConcini said, but no meeting date has yet been set.
About picking up the tab for three-station monitoring, Precision Castparts Director of Corporate Communications David Dugan said, "The company has not made a decision regarding funding the two monitoring stations, pending our meeting with Oregon DEQ."
---
NASA Astronaut Dr. Mike Barratt, MD, says he hadn't dreamt as a kid of becoming an astronaut, but he certainly enjoyed being one. (Photo by David F. Ashton)
Astronaut returns 'home' – to OMSI
By DAVID F. ASHTON
For THE BEE
Although "World Space Week" ended on October 10, the Oregon Museum of Science and Industry (OMSI) continued its celebration with appearances by NASA Astronaut Dr. Mike Barratt MD, on October 14 and 15.
Before one of his public talks at OMSI, Astronaut Barratt spoke with THE BEE.
The astronaut grew up just across the river in Vancouver, but was an "OMSI kid", who worked with the museum's former space science instructors – and helped build a telescope while he was there.
"But, being an astronaut wasn't really a childhood dream for me," Barratt said – he became a physician. "But, I trained in internal medicine specifically to learn about physiology, to prepare me for space medicine. After I finished internal medicine, I did an aerospace residency. By that time I was already on a path toward the space program – not yet actually knowing I wanted to fly.
It hadn't been until he was 35 years old that he realized he was very interested in long-duration [space] flight. "So, I threw my hat in the ring." It turned out that 35 years old was not too late.
"I went down to the Johnson Space Center as a flight surgeon in 1991, and went to the Astronaut Office in 2000, and had a very happy nine-year career as a space flight medical officer."
The most interesting thing about spending about 200 days in space, circling the earth? "Watching humans adapt to space. I'd been learning about this and studying it for years and years. Going through this process myself was really cool.
"And, yes, looking outside and seeing the earth turning below was really cool too," Barratt added.
What he called his "amazing big three" about being in space included:

Living in zero gravity;

Seeing your own planet from space; and,

Spending time with crewmates.
Barratt endorsed the Oregon Museum of Science and Industry as a great place for kids to learn about science. "I took a lot of classes, including marine science, and I did chemistry and astronomy.
"Coming here today was a cool was to give back," Barratt reflected. "In another way, it's cool seeing a bunch of kids reliving my childhood. I applaud their brilliant future; I hope they get into the science, as I did."
OMSI's robust and immersive currently-featured exhibit – covering two floors at OMSI – is called Journey to Space: The Exhibition, and includes a walk through a life-size model of the Destiny Lab. It runs through January 8.
For more information about OMSI, go online: http://www.omsi.edu.
---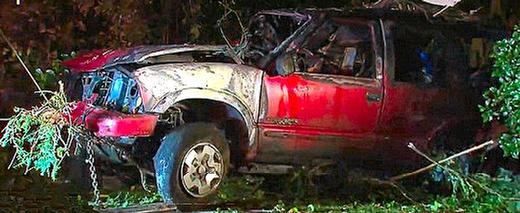 After a car smashed into a guardrail at S.E. 52nd and Harney Drive, passersby stayed with the victim until the arrival of emergency first responders. (Photo by David F. Ashton)
Elderly woman survives crash into Harney St. guardrail
By DAVID F. ASHTON
For THE BEE
None of the neighbors saw or heard it, when a white Toyota Prius smashed headlong into a guardrail at the point at which S.E. 52nd Avenue meets Harney Street, on Tuesday evening, November 1.
But, when Good Samaritans saw the car in the intersection, at about 7:15 p.m., they stopped to help.
The first passerby at the scene called the 9-1-1 Center asking for help. Another stopped and also called 911, only to learn that it had already been reported.
"The woman shouted at us, asking us what we're doing and why we were opening the door of her car, and to leave her alone," one of the helpers reported. "We told her that we were concerned about the gas and smoke filling up the interior of her car, and wanted to make sure she had fresh air to breathe."
The front end of the car was destroyed, indicating the vehicle was traveling at a relatively high rate of speed, and the airbags had deployed. There were no skid marks leading up to the scene.
The growing group of bystanders continued to wait for police, and encouraged the crash victim to stay seated until emergency medical personnel arrived.
One of the later bystanders who stopped identified himself as a nurse, and asked medically related questions of the woman. She could not remember where she was coming from and didn't know where she was, but did know that she was on her way home when the accident happened.
About 25 minutes after the initial call, a Portland Police Bureau East Precinct officer arrived, and, moments later – since the 9-1-1 Center had apparently not done so – summoned an ambulance and paramedics to perform a medical evaluation of the driver.
---
Although PBOT eventually removed the street closure barriers, neighbors who travel near S.E. Sellwood Boulevard at 7th Avenue, near Sellwood Park, still wonder about safety of the street. (Photo by David F. Ashton)
October deluges crumble Oaks Bottom Bluff
By DAVID F. ASHTON
For THE BEE
Starting with the exceptionally heavy downpour the evening of October 14, followed by additional heavy rainstorms through the remainder of the month, portions of the bluff above Oaks Bottom began crumbling.
The Portland Bureau of Transportation (PDOT) closed off S.E. Sellwood Boulevard at 7th Avenue the following morning, and kept it cordoned off until October 18, while engineers evaluated a washout under the street.
"PBOT engineers examined the street and found it safe, so it was reopened," PBOT Public Information Officer Dylan Rivera told THE BEE.
But, Rivera said, the Bureau's engineers have been keeping an eye on the area. "We're continuing to work on the slide/washout site, installing erosion control and site stabilization measures at the site this week," Rivera reported on November 8.
"We will also be working on raising the height of the curb along the top of the slide to keep stormwater in the street away from the top of the slope," he added.
When asked about another washout in the 5300 block of S.E. Milwaukie Avenue that had been spotted by BEE reporter Rita Leonard, Rivera checked with engineers.
"We are working with BES geotechnical engineers to develop a solution for the S.E. Milwaukie Avenue site," Rivera responded. "The sidewalk has been undermined, and we want people to stay off of it to avoid injury – so it's been barricaded to keep it safe."
THE BEE will continue to follow the progress of the repairs to both these streets.
---
Personal items and medical supplies remained in the eastbound lanes of S.E. Powell Boulevard, after what was described as an unprovoked drive-by shooting. (Photo by David F. Ashton)
Powell drive-by shooting injures pedestrian
By DAVID F. ASHTON
For THE BEE
An employee inside Powell Tattoos, on Southeast Powell Boulevard at 52nd Avenue, said he heard a loud "pop" outside the store. It was 5:40 p.m. on Sunday, November 6.
Within two minutes, Portland Police East Precinct officers had arrived and cordoned off S.E. Powell Boulevard, between 52nd Avenue and Foster Road, when they found a man down in the street.
"Officers located a male adult victim suffering from a gunshot wound," reported Portland Police spokesman Sgt. Pete Simpson.
People in the area, witnessing the immediate aftermath, told THE BEE the person shot looked to be a transient, and had fallen into the eastbound lanes of Powell Boulevard.
"Preliminary information indicates that the shooter was in a silver pickup truck that afterward drove away westbound on Powell Boulevard," Simpson later said. "It is unclear what prompted the shooting, but it does not appear to be gang-related," he added.
The victim was taken to a Portland hospital by ambulance; his condition has not been disclosed due to privacy laws. The investigation continues.
---
Woodstock's Jill Torberson. (Photo by David F. Ashton)
Inner Southeast artists shine during 'Open Studios'
By DAVID F. ASHTON
For THE BEE
During each fall season, an organization called "Portland Open Studios" creates an enlightening opportunity for people to observe art being made, and to learn more about local artists' creative endeavors.
This year, there were a dozen or more artists in Inner Southeast Portland who opened their studios during the first two weekends in October. Come along, as THE BEE takes you on a tour, and introduces you to five area artists.
Steel Sculpture in Woodstock
Jill Torberson
jill@weldmetalworks.com
www.jilltorberson.com
Iron and steel have become the preferred media for Jill Torberson as a result of having become fascinated with welding, while working with draft systems at Bridgeport Brewing.
"Once I watched welding, I became completely in love with it, quit the job, and took a class!" Torberson told THE BEE. "I've worked at other jobs, but this one 'stuck' – and now, I'm also a licensed and bonded contractor!"
But it's not all hammering, bending and welding, Torberson added. "I also play French horn, with orchestras and ensembles."
Jewelry Making in Sellwood
Wendy Robinson
wearinragz@yahoo.com
Wendy Robinson told us she started out making clothing, but on frequent visits to the east coast to visit her ailing mom, she took a little time to try her hand at jewelry making. "It's impossible to carry a sewing machine on a jet, but I wanted to while away hours during the long trips; and beads and jewelry took over."
She doesn't start out with a specific design in mind, Robinson explained. "I can't just do straight lines; I have to embellish the work with texture and color. Each piece 'talks' to me, and tells me when it's completed."
As with the necklace Robinson showed us, "It started with metal washers, and then the blending of the textures, soft and hard – and went on until it 'told me' it was done."
Photography and Tintype Portraiture in Sellwood
Anna Daedalus and Kerry Davis
1715 S.E. Spokane Street
www.rollupspace.com
www.kerrydavisphotography.com
After meeting each other in 2011 at a writers and artists event called "13 Hats", Kerry Davis and Anna Daedalus started working together.
"I started off as a filmmaker, actually – which led me into the world of photography, and then into the world of visual arts," recalled full-time professional photographer Davis, at their studio. "I like combining photography with visual arts, in different formats and in different ways."
Daedalus chimed in, "We also do commercial tintype portraiture as well; that's the 'commercial side' of our fine art."
Davis said he enjoys challenging himself to find creative ways of getting work, meeting interesting people, and being his own boss.
"I think being creative entails constant problem-solving, Daedalus said. "It's intellectual, but it's also being creative – so it's a good combination."
Acrylic Painting in Woodstock
Alison O'Donoghue
alihildy@msn.com
www.aliorange.com
Although Alison O'Donoghue had opened her home studio to the public, when we entered she was still juggling the finishing of paintings for an upcoming show with greeting her guests. After all, she explained, she's a full-time artist.
O'Donoghue said she first realized she was an artist in the 1980s, when she started taking arts classes. "Earlier, I'd had this passion for drawing, and frustration with oil painting," she said.
"Now, my medium is acrylic," O'Donoghue explained. "When I started painting with a very fine sable brush on smoother surfaces, I started loving painting. So it worked out really well."
Obsidian Windchimes in Sellwood
Richard and Deborah Bloom
info@ obsidianwindchimes.com
www.obsidianwindchimes.com
Working in his home studio, Richard Bloom said he was a jeweler, when – in the early 1970s – he came across a dishpan full of long skinny rocks in a rock shop.
"The fellow there said people used obsidian for making windchimes," Bloom remarked. "When I didn't have jewelry to take in to my booth at Portland Saturday market, I took wind chimes. I sold so many of them, I thought I might be in the wrong business!"
His wife Deborah told
THE BEE
that making and selling windchimes has now become their fulltime business. "We do shows around the country and here in Portland, and there are about 60 craft galleries around the country that sell them, too."
---
A firefighter surveys the damaged pickup, under the fallen tree in Eastmoreland. Some powerlines were brought down in the incident as well. (Courtesy of Marc Walker)
Eastmoreland tree collapses on truck; driver unhurt
THE BEE heard from two readers immediately after a large tree fell into the street in Eastmoreland, landing on the bed of a passing pickup truck. One caller was Ed Adolphson, a veteran BEE advertiser ("Ed the Landscaper"), and the other was reader Marc Walker.
Walker reported how it had happened:
"At about 10:15 a.m. this morning [Wednesday, October 26] a very large tree at the corner of S.E. 36th and Rex, a block up from Duniway Elementary School, decided to fall into the intersection.
"A passing motorist – a neighbor who lives up a few houses on S.E. Rex – had the misfortune of being underneath it as it fell. She is fine.
"A fire team arrived 15 minutes later to block off the area, as there was a power line down, and possibly another one down a block up on S.E. Rex.
"We all heard a loud cracking noise (the tree), and then a huge pop (the power lines), and then the power flickered. Some houses were affected, as was the school, partially. The street is completely covered in tree."
Walker forwarded photos of the mishap, which must have been the result of rain-saturated soil, since there was no significant wind that morning.

We always appreciate our readers serving as reporters, and we thank both men for alerting us to, reporting on, and illustrating, this surprising turn of events.
---
Matt Hainley and Don Bolton position the railing, as it's lowered onto its pedestal. (Photo by David F. Ashton)
Historic Sellwood Bridge railing segment graces SMILE Station
By DAVID F. ASHTON
For THE BEE
As the year draws to an end, about all that remains of the original Sellwood Bridge is memories.
But, thanks to a plucky Sellwood resident, Rachel Ginocchio, an artifact of the historic bridge has been preserved – and is now permanently on display in front of the SMILE Station, at S.E. 13th and Tenino, in Sellwood.
As previously reported in THE BEE, Ginocchio and partners created a project making and selling mementos from bridge to benefit Sellwood Middle School programs.
"The process that led up to this was working with the Sellwood Bridge general contractors Slayden/Sundt Joint Venture over the last two years," Ginocchio recalled, as she watched the only remaining segment of the historic bridge railing being installed on a pedestal Tuesday, November 8.
"We kept asking for an intact piece of the railing," Ginocchio recalled. "For a long time, they told us that it was impossible to get one, because of they how they had to dismantle it."
But then, the contractors found a way and contacted her, offering a segment of railing, which (when she accepted) they dropped off in her front yard.
After the SMILE Board approved installing the artifact on their property, Don Bolton and Matt Hainley met with an engineer to design the mounting for it. Bolton then made the concrete forms, and oversaw the pedestal's construction, Ginocchio said.
After the foundation and pedestal had been poured, volunteers persuaded a nearby apartment building contractor to loan the use of a powerful Terex forklift (with driver) to lift the railing into place.
"This is a wonderful piece of history we have been able to preserve," Ginocchio exclaimed. "And, it's also been a wonderful community engagement activity. So many people from the community have been excited and supportive of us saving a piece of the old bridge, and putting it somewhere the whole neighborhood can enjoy it."
That someplace is on S.E. 13th Street, one block south of Tacoma Street, in front of the flagpole. You can't miss it!
---
In a downpour, a Portland Police officer escorts the arrested driver toward a patrol car. (Photo by David F. Ashton)
Drunk driver crashes in the rain, in Woodstock
By DAVID F. ASHTON
For THE BEE
The only reason that nearby Woodstock neighbors heard the loud crash, and a car's engine revving, during a heavy rainstorm Saturday evening, November 5, was they had friends over to their house for a backyard party, held outdoors under a large canopy.
At 8:30 p.m., the sound of the smashup led the neighbors to peek out from under their canopy.
A dark Mazda Protegé had been headed southbound on S.E. 46th Avenue from Woodstock Boulevard, and evidently had hit a street sign at Henry Street – just before colliding with a parked car at Glenwood Street.
Woodstock's Station #25 Truck Company paramedics tended to the driver, who appeared to have only minor injuries. When he requested to be taken to a waiting ambulance, firefighters walked him over to it, and he climbed inside.
Shortly thereafter, an officer escorted him back out of the ambulance, conducted a search, handcuffed the man, and put him into a patrol car.
Portland Police spokesman Sgt. Pete Simpson said the man officers arrested was 54 year old Christopher Lee England.
England was booked into the Multnomah County Detention Center at 11:19 p.m. on charges of Driving under the Influence of Intoxicants, and Reckless Driving. He was released from custody the following day "on his own recognizance", prior to trial.
---
Paul Rager, left, father of the late Danny Rager, stands with blood donor Scott Tracy, a fellow Sacred Heart parishioner. (Photo by Rita A. Leonard)
Rager memorial blood drive again held in Brooklyn
By RITA A. LEONARD
For THE BEE
Saturday, October 15, the annual Daniel Rager Memorial Drive took place – a special Red Cross blood drive, at the Sacred Heart Villa dining hall, on S.E. Milwaukie Avenue.
It was an occasion to celebrate the life of former Brooklyn resident Daniel Rager, who passed in an auto accident in 1998. Danny's father Paul, who still lives in Brooklyn, greeted donors at the door, and made sure they each received a rose (red, pink or white) when they left.
"We have thirty-three donors scheduled for the 10-3 p.m. period, and some ten additional walk-ins," remarked Paul Rager. "Many of these are friends and relatives [of Danny], or Sacred Heart Church parishioners. Many relatives are manning the 'cantina' today, and everyone is coming to celebrate memories of Danny with a generosity of spirit. Some have been returning for eighteen years.
"Danny was a thoughtful person, and would always bring home 'strays'," recalled Paul with a smile. "I remember he would invite folks over for breakfast after the Sunday morning service, without telling us beforehand. His friends remember similar stories.
"You don't fully understand the goodness of a person until you make contact with all his different acquaintances," Paul reflected. "At my time of life, it's about surrendering to God's will and searching for goodness in the world. I treasure meeting Danny's old friends, and hearing new stories about him. These anecdotes are a delightful way to live out the legacy of his life. This annual blood drive brings goodness in many different ways."
If you missed it this year and would like to join in remembering Danny Rager, it will repeat in mid-October at Brooklyn's Sacred Heart facility.
---
The damage to his car was minimal, but the driver was nonetheless taken by ambulance to a hospital for evaluation. (Photo by David F. Ashton)
'Drugged driver' crashes into a tree on 82nd Avenue
By DAVID F. ASHTON
For THE BEE
At first, East Precinct officers were puzzled about why a silver Toyota Camry SE had driven off S.E. 82nd Avenue of Roses, and rolled straight into a tree, on Friday evening, October 21.
An officer at the scene said only one vehicle was involved, and that the southbound car had apparently simply drifted off the roadway, popped up over the curb, had struck a tree against the front passenger side of the vehicle, and then stopped abruptly near S.E. Taggart Street.
Emergency medical first responders arrived to examine the driver, and said that the driver wasn't hurt in the crash. Nonetheless, he was "unresponsive" for the most part, and seemed unaware of his surroundings, and they concluded he was under the influence of drugs or medication.
The driver was taken to a local hospital, with police officers following close behind. "Driving while impaired" seemed a likely charge forthcoming. Officially, the case remains under investigation.
---
---
Comments? News tips? Click here to e-mail us!

Note to readers: At some point, this, our original Internet website, will be replaced at this web address by our new website, as part of the Community Newspapers group. At that time, you will still be able to access this older, but still operative, website, if you save this address: www.southeastPDXnews.com. Right now, it leads you to our new website. Eventually, it will lead you back to this old one! Both will be up to date and current, and you'll still have your choice of which one to visit!

READY TO MOVE ON TO THE EDITORIAL, AND THE "LETTERS TO THE EDITOR", ON PAGE 3? CLICK HERE!