More stories from January's issue of THE BEE!
Cleveland High School senior Peter Za with a ceremonial check symbolizing his $25,000 college scholarship. He was flanked by Cleveland High School College Career Center Volunteer Jennifer Rockwood, and "Sallie Mae" Vice President Liz Robinson. (Photo by David F. Ashton)
Cleveland High senior awarded $25,000 scholarship
By DAVID F. ASHTON
For THE BEE
Peter Za, a 17-year-old senior at Cleveland High School (CHS), told THE BEE he'd had an inkling that the afternoon of November 14 could be different from the many others he'd spent at the Catholic Charities of Oregon's "Homework Club" meeting at the Kateri Park Apartments, in the Creston-Kenilworth neighborhood.
His afternoon indeed turned out to be life-changing – because, before the day was out, he was awarded a $25,000 "Bridging the Dream" college scholarship, awarded by SLM Corporation, commonly referred to as "Sallie Mae" -- a publicly-traded U.S. corporation that provides student loans and consumer banking services.
In addition to being a leader of that Homework Club, it was revealed that Za is also a CHS international baccalaureate certificate candidate, and has maintained a 4.0 GPA, is on the varsity soccer team, volunteers as a math tutor, and is a leader in the English language learner community.
After receiving the check, Za told the students in his club, "Yesterday, I kind of guessed that this might be happening.
"It's awesome that you're giving me this; I'm really thankful for it," Za beamed. "This is just awesome!"
---
Officers ask the suspect, already in the back of the squad car, about some apparently-stolen items found during his arrest. (Photo by David F. Ashton)
Alert neighbors stop a prowler on SE 74th
By DAVID F. ASHTON
For THE BEE
When Brentwood-Darlington neighbors saw a man looking into the windows of homes along S.E. 74th Avenue, between Crystal Springs Boulevard and Harney Street, they called 9-1-1, and East Precinct officers responded to the area. After a brief foot chase, they cornered the suspect in the back yard of a house.
The suspect was carrying apparently stolen items, such as a brand new laptop computer in a new computer bag. Admitting to officers he was "homeless", the suspect said he was "just looking for houses to rent".
"I believe neighbors can feel a bit safer, now that this suspect is under arrest," an officer commented to THE BEE at the scene.
Police thanked the alert neighbors for putting an end to what appeared to be a crime spree.
---
ODOT Project Leader Nate Scott describes some of the project-wide improvements to be made as a result of the "Inner Powell Safety Improvement Project". (Photo by David F. Ashton)
ODOT's safety changes coming soon to Powell Boulevard
By DAVID F. ASHTON
For THE BEE
The public got a first look at the plans to improve safety along US 26, more commonly known as S.E. Powell Boulevard, from Oregon Department of Transportation (ODOT) officials in the Cleveland High School Library, on Friday evening, November 10.
"It's called the 'Inner Powell Safety Improvement Project'; providing $3.25 million worth of safety improvements on Powell between S.E. 20th and 34th avenues," remarked ODOT Region 1 Public Policy & Communications Manager, Shelli Romero. "Tonight, we're letting people know a little about the construction schedule and the construction impacts, what they should expect when the project begins in February."
The aim of the project is to increase safety not only for motorists, but also for pedestrians, bicyclists, and transit users, Romero explained. "This busy stretch of U.S. 26 has a history of safety problems, and has become a high priority for improvements."
The project includes:
Three rectangular rapid flash beacons on Southeast Powell Boulevard at 24th, 31st, and 34th Avenues, to alert drivers of pedestrians crossing

High visibility striping and center islands

New traffic signals at 21st, 26th, and 33rd Avenues, with bigger and more visible signals and poles, and with audible countdown pedestrian signals

Improved street lighting and signage

Increased visibility of bicyclists, pedestrians and motorists

Sidewalk repairs and ADA ramp improvements

Tree removal and trimming as needed, to increase visibility and safety
"For Cleveland High School, at the southeast corner of 26th Avenue, we will expand the area where a lot of students congregate on the corner to cross the street and go to school, so we will be constructing a Pedestrian Waiting Area right there," Romero told those present. "This larger area for them to assemble will hopefully keep them from standing in the roadway on 26th Avenue!"
Given the high volume of traffic on this boulevard, there will be a lot of nighttime work, and motorists will encounter lane restrictions during the project, Romero said.
And, neighbors living along 14-block stretch of the thoroughfare will experience some construction noise as contractors demolish and reconstruct ADA ramps, and relocate utility signal poles.
It's a year-long project, Romero said, starting this February, and continuing through January of 2019. "We're really excited to implement the safety projects in this corridor, because we recognize the crash history here is less than ideal, and we are happy to bring this important safety project to Southeast."
Of the many people at the CHS open house, resident Peter Clough said he is "a little disturbed that there seem to be so many unavoidable jurisdictional issues between the City of Portland and ODOT. For example, it's difficult to get answers to questions about visibility issues – especially about removal of trees along the road. It seems that vertical advertising banners are blocking visibility more than trees do!"
Whether you call it "US 26" or "Powell Boulevard", be ready for construction coming to this very busy highway starting this winter and lasting all year long.
---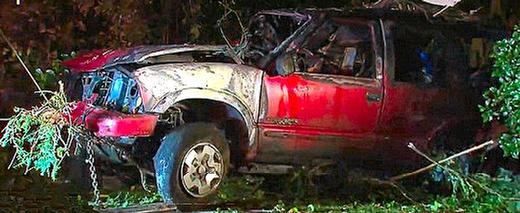 After this crash, the large pickup truck wound up deep in the bushes after T-boning a commercial dump truck on S.E. Flavel Drive. (Photo by David F. Ashton)
Trucks smash on Brentwood-Darlington residential street
By DAVID F. ASHTON
For THE BEE
Brentwood-Darlington neighbors scratched their heads after the crash at 3:30 p.m. on Thursday, November 16, wondering how two large trucks could have been so damaged in a mishap on a 25 mph street. It happened on S.E. Flavel Drive at Harney Street.
Neighbors told THE BEE that, somehow, a white GMC Sierra pickup truck had run into the driver's side of a large yellow dump truck. The collision was with such force and impact that it broke off the driver's side rear wheel from the axle of the dump truck.
Meantime, the GMC Sierra pickup careened headlong off the street and came to a stop in the shrubs and trees of a nearby yard.
Two ambulances were dispatched to the crash scene, and one patient was said to have been taken to OHSU with internal injuries.
"It initially appeared that a person had life-threatening injuries, however, upon assessment at the hospital, it was determined the injuries were not life-threatening," later said Portland Police spokesman Sgt. Chris Burley.
"One of the drivers was cited for driving while suspended, at the misdemeanor level; the other is being investigated for 'DUII – drugs'," Burley commented. It took a while to tow the damaged vehicles and reopen the once-again-quiet residential street.
---
Diners Zi and Hope said they were thankful for the wonderful meal, as well as to be in the company of a warm and caring community. (Photo by David F. Ashton)
Volunteers again serve free Southeast 'Thanksgiving Feast'
By DAVID F. ASHTON
For THE BEE
For an unprecedented eighth year in a row, everyone in the community was invited to the free Thanksgiving Day "Feast for Southeast", this year on November 23, at the Mt. Scott Community Center.
Dozens of volunteers arrived early to set up and spend the day in service to their community on this holiday, led by the two chief organizers now carrying on this traditional communal dinner: Chef Mel Payne, and chief event organizer Kendall Palmer.
"I've been here since the very beginning; I started out just doing decorations for this the first year, but as the originating couple stepped back from it, I slowly but surely picked up more responsibility," Palmer told THE BEE, minutes before the doors opened at 1 p.m. Thanksgiving afternoon.
Although they served a complete Thanksgiving dinner to some 500 people – from all walks of life – Palmer observed, "It's really not about the numbers for us; what we talk about most is that we're doing this to help make positive connections in our community."
More than simply presenting a good meal and offering personal comfort supplies, Palmer added, "this afternoon is actually about providing human connections and conversation with our 'table hosts' and servers here today. In this way, we build our community, and break down barriers."
Volunteers in this annual event went on to create an organization they call "Gather Portland", a nonprofit umbrella that will host additional events and projects, Palmer said – "All with the focus and goal of creating connection, community, and caring for everyone."
As other volunteers set up the dining room, and prepared to welcome the guests, Chef Mel Payne worked with her crew to make ready the final food preparations.
"Because I don't have a big family here to enjoy Thanksgiving Day with, I enjoy spending my time in this kitchen, serving the community; my crew is my family today – in fact my brother, partner, and two of my best friends helped make this dinner," Payne smiled. "We really 'killed it' this year; this dinner is the best one of the three years we've been involved!"
Tallying it all up, the food crew cooked 18 turkeys and 11 hams, made 120 pounds of mashed potatoes, as well as 50 pounds of Brussels sprouts with sautéed onions and red peppers, and 50 pounds of sweet potatoes. And then there were gallons of gravy, plus a vegetarian protein for those requiring it.
During the meal, volunteers brought beverages to the diners, along with refills.
In a side room, three volunteers worked to cut and plate slices of pie that a half-dozen volunteers delivered to diners at their tables.
The main sponsors of this year's Feast included Southeast Uplift, KitchenCru culinary prep space, New Seasons Markets, Pacific Coast Fruit Company, and Great Harvest Bread – plus dozens of financial donors.
"We are looking for people to come on board and help build up our leadership – anyone who would like to help at this, or our other events, please let us know!" Palmer said.
Find out more about the nonprofit "Gather Portland" organization online – http://www.gatherportland.org.
---
East Precinct officers, standing at a neighboring house's porch, keep careful watch on the suspect's house while waiting for specially trained police arrive to try to defuse the situation. (Photo by David F. Ashton)
Officers defuse domestic incident on 62nd Avenue
By DAVID F. ASHTON
For THE BEE
While most families in the Brentwood-Darlington neighborhood were relaxing after enjoying their Thanksgiving Day dinner, a potentially dangerous situation was developing in a house on S.E. 62nd Avenue near Clatsop Street.
East Precinct officers were called there at 7:46 p.m. by reports of threats of violence having been made by a resident against a young family member.
When officers arrived, they learned from neighbors which house the suspect was in, but all of the lights there had been turned off.
Because it had also been reported that a gun was in the house, officers with long guns and less-than-lethal weapons were called to the scene before "loud hailing" the home, seeking to get the suspect safely out of the residence.
At about 9:35 p.m., officers persuaded the individual to let them in and check the house, and after that the incident ended without incident. The suspect, a female, was transported by ambulance to a medical facility for evaluation and care.
Some officers stayed at the scene until about 10:15 p.m. to complete an investigation of the incident.
---
In Woodstock, Mary Frazel and her daughter Ruby use rakes to keep the grated storm drain in front of their house free from leaves. (Photo by Elizabeth Ussher Groff)
PBOT asks Southeast neighbors to adopt a storm drain
By ELIZABETH USSHER GROFF
For THE BEE
Those in Inner Southeast who might find themselves concerned about clogged curbside storm drains – which can lead to street flooding and messes that are especially difficult and hazardous for pedestrians and bicyclists – are informed by the city that they can be part of the solution.
The Portland Bureau of Transportation (PBOT) advises that it's not too late – in fact, winter is just beginning! You can "adopt a storm drain"! Maybe you have already accepted responsibility for clearing leaves and other clogs from a storm drain near your house or apartment, but if not, now is the time.
Many deciduous trees have already lost their leaves, but some – like sweetgum – can shed into mid or late January. Fallen leaves and other debris can clog storm drains and cause standing water at curbs and intersections. And snow and ice can also seriously clog these street drains after a winter storm.
Social media and television news have covered this topic and requested residents to help out, but there is still need. The city can't do it by itself. There is no signing up, no red tape – just a personal commitment to help out. And the reward? The satisfaction of helping your neighborhood.
With 58,000 storm drains in the city, Portland's Bureau of Transportation takes care of thousands each month, but needs help with the remaining grated street drains it can't get to.
"This is bigger than the Bureau can handle, so it's good to have property owners and residents help out," says Dylan Rivera, PBOT spokesperson. "And snow and ice can obstruct storm drains too, so in that case we ask residents to use a shovel to clear the drain."
Rivera points out that the Portland Bureau of Emergency Management has asked Inner Southeast Neighborhood Emergency Team (NET) leaders to notify NET members if help is needed with storm drains. NET people help out when a neighbor is unable to clear the drain. In early November Mark Ginsberg, Woodstock NET Team Leader, informed members that they had been asked by the city to help with drains, and several did go out to clear away leaves.
A few tips on how to keep streets safe and un-flooded:
Inspect the storm drain near your residence when rain is forecast to see if it is clogged by leaves, mud, blossoms (in the spring), evergreen needles, or branches.

Don't rake leaves into the street unless you are in a "leaf zone" where leaves are picked up by the city for a fee. (Check with the city at 503/865-5323 to determine if you are in a leaf service zone.)

Place leaves or other tree debris in your green yard debris roll-cart for curbside pickup. If there is too much for the cart, get a brown paper yard debris bag (not plastic) from your hardware store and put it next to the roll cart, usually for an extra $3.75 pickup fee per bag.

It may seem obvious, but use a rake or shovel, not your hands. Some gutters have pieces of debris you don't want to encounter with hands.

Clear approximately ten feet on each side of the storm drain.

If the catch basin below the drain is still clogged after removing surface debris, let the city take care of it. Call Maintenance Dispatchers at 503/823-1700, or e-mail –

pdxroads@portlandoregon.gov

.
Pedestrians, bicyclists, and your neighbors will all appreciate your help!
---
Progress slow for establishing Eastmoreland Historic District
By DAVID F. ASHTON
For THE BEE
How to proceed with the "Eastmoreland Historic District National Register Nomination", was outlined by the U.S. Department of the Interior National Park Service, in a letter addressed to the Oregon State Historic Preservation Office (SHPO) – which they received in mid-November.
In that four-page document – which the federal "Keeper of the National Register", J. Paul Loether, wrote to SHPO Associate Deputy Station Historic Preservation Officer Ian Johnson – Loether reaffirmed that the nomination was not disapproved for listing in the National Register, but was "returned for correction and resubmission for listing in the National Register".
In the letter, Loether stated that there are "three key aspects" involved in determining whether a majority of private property owners objected to a proposed National Register listing:
Identifying who the property owners are
Determining which owners are private or public; and
Calculating whether a majority of private owners has objected to the listing
To correct the nomination and resubmit it, Loether outlined a three-step process, with fourteen sub-steps, for determining whether or not more than 50% of private property owners objected to the nomination.
About the process, SHPO's Johnson commented, "The Oregon Department of Justice (DOJ) is reviewing the letter [from Loether], and will consider it when answering the questions regarding counting owners and objections that we submitted in August; DOJ has not provided us a timeline for the response. Once we have the answers from DOJ and have a complete process to share with the group we will do so.
"As part of that process, we will contact the Eastmoreland Neighborhood Association, the project proponent, by letter, and ask them if they would like to proceed with the resubmission. We are asking that the neighborhood association not take action until we send official correspondence," concluded Johnson.
---
A detective and an officer speak with a neighbor of the victim, after a man was found stabbed at a Mt. Scott-Arleta apartment complex on Woodstock Boulevard. (Photo by David F. Ashton)
Son wanted in dad's stabbing death in Mt Scott-Arleta
By DAVID F. ASHTON
For THE BEE
The Marwood Plaza apartments compose an "affordable" rental housing community, neighbors told THE BEE – a nice, quiet place to live in the Mt. Scott-Arleta neighborhood they say, at 7200 S.E. Woodstock Boulevard.
But a stabbing there brought East Precinct officers early Saturday morning, December 2, at 1:55 a.m.
"Officers and medical personnel arrived in the area and located a male suffering from traumatic injuries; the victim was transported by ambulance to a Portland hospital for treatment," according to Portland Police spokesman Sgt. Pete Simpson.
Officers learned that the stabbing occurred at a nearby apartment and the victim ran to seek help, Simpson said. After an extensive search of the neighborhood, officers didn't encounter anyone matching the description of the suspect.
"At approximately 5:45 a.m., officers were notified that the victim had died at the hospital," advised Simpson.
About 3:00 p.m. that afternoon, police checked out a possible sighting of the suspect in downtown Portland, but didn't locate him at that time.
That evening, Simpson said that the Police Bureau's Homicide Division detectives publicly identified the suspect in the homicide. "30-year-old Tyler Nees has an active murder warrant in connection with the homicide of his father, 64-year-old Brian Nees."
Tyler Nees is described as a white male, 6'00" tall, 190 pounds, short red hair, and blue eyes.
As the investigation continued, the victim's son and the suspect's brother, Forrest Nees, told reporters of his grief at losing his dad. "My dad was a loving, warm person, who lived life and his family, and would stop to help anybody, including my brother."
"Anytime there is a homicide suspect in the community we have concerns; we don't know what the person will do, if confronted," Simpson said. Consequently, anyone seeing Tyler Nees is asked not to approach but to immediately call 9-1-1.
Anyone with non-emergency information should contact Detective Brad Clifton at 503/823-0696, or e-mail brad.clifton@portlandoregon.gov. An alternative contact would be Detective Todd Gradwahl at 503/823-0991, or todd.gradwahl@portlandoregon.gov.
Anonymous information may be shared with Crime Stoppers of Oregon by calling 503/823-4357, or may be entered online – https://www.p3tips.com/823.
---
ODOT's 82nd Avenue of Roses Implementation Plan Manager Terra Lingley showing four districts [in red], where some improvements have been made, and others are suggested. (Photo by David F. Ashton)
ODOT shares 82nd Avenue of Roses upgrade plans
By DAVID F. ASHTON
For THE BEE
Staff members from the Oregon Department of Transportation (ODOT) shared what they learned during their "82nd Avenue of Roses Implementation Plan" process – and also asked interested people to chime in on their ideas – at an open house on Saturday, October 21, at Portland Community College's Southeast Campus.
ODOT is developing the plan for the 7.5 mile stretch of 82nd Avenue of Roses from N.E. Killingsworth Street in the north, to S.E. Johnson Creek Boulevard in the south, explained Improvement Plan Manager Terra Lingley.
The plan, Lingley said is for projects:
To improve safety for people walking, biking, using mobility devices, taking transit and driving on 82nd Avenue
That could be funded and built in the next 5-10 years.
"We worked with community groups to learn what their priorities were for 82nd Avenue," Lingley told THE BEE.
"What we heard, overwhelmingly, was to make it safer, more comfortable to walk along, and more easy to cross 82nd Avenue. So, we focused on ways to facilitate crossings for pedestrians and bicyclists, and also considered upgrades to the sidewalks, and the 'feel' of the street to walk along," Lingley said.
Proposed were contingencies envisioned with three different levels of funding:
Lowest – using funding expected to be available next 5 to 10 years
Middle – improvements that can be funded by obtaining a major grant
Highest – should the Oregon State legislature earmark funding for some major improvements
"The first two scenarios are really focused on sidewalk infill and crossing improvements," commented Lingley. "The third scenario is more transformative of what could be done if curves could be moved, street trees installed, and sidewalks added in specific areas."
Focusing on the segment from S.E. Harney Street to Johnson Creek Boulevard, Lingley said, "This is the area where we see the most challenges for pedestrians to walk along, and to cross the street.
"We have some very constrained and very narrow sidewalks – in some places, there are no sidewalks, and in one case, there is a building literally in the way!" Lingley exclaimed.
In one of the scenarios put forth, she said, "We have a concept to provide enhanced pedestrian crossings where we know we have gaps; in one area, to direct pedestrians to the west side of the street, and then upgrade that sidewalk so there is space so folks can kind of get around that that obstruction."
The plan also proposes replacing a traffic signal at Woodstock Boulevard, Flavel Street, and Foster Road, and moving a bus stop. Re-paving the highway from S.E. Foster Road to Lindy Street is currently scheduled for design in 2019, with paving to begin in 2020 – a project estimated to cost $9.4 million.
ODOT has already invested $35 million to improve the thoroughfare in the past ten years, Lingley pointed out – and proposed projects represent another $10 million to $15 million in projects, including that already-budged paving project.
For more information, go online to project's website: http://www.82ndaveprojects.org.
---
Police vehicles block a dead-end street in the Brentwood-Darlington neighborhood, while officers investigate a deadly shooting. (Photo by David F. Ashton)
Suspect charged: Murder on a dead-end street
By DAVID F. ASHTON
For THE BEE
After residents called the 9-1-1 Center to report the sound of gunshots, a little after 11 p.m. on Friday evening, November 10, a little after 11:00 p.m., officers responded to the 8100 block of S.E. Glenwood Street – an unpaved dead-end that runs west off S.E. 82nd Avenue of Roses.
"Officers located one person deceased near a residence," reported Portland Police spokesman Sgt. Pete Simpson.
Officers didn't find a suspect in the vicinity at that time, and soon homicide detectives, criminalists, and the Oregon State Medical Examiner were there, conducting an investigation into the death.
After the autopsy, the Oregon State Medical Examiner reported that the victim, 52-year-old Robert Lee Kaiser, had indeed died of homicidal violence as a result of a gunshot.
"During the investigation, detectives developed probable cause to arrest a suspect in connection this case; and, in the morning hours of November 13, the United States Marshals Service Oregon Fugitive Task Force arrested 54-year-old Shawn Kevin McGinnis at a residence in the North Tabor neighborhood, on SE 45th Avenue," Simpson said.
After his arrest, detectives learned that McGinnis had a pre-existing injury that required medical attention. McGinnis was taken to a hospital and received medical treatment, Simpson said, before being released from medical care and booked into jail on November 17.
McGinnis was lodged at the Multnomah County Detention Center (MCDC) at 12:57 p.m. that afternoon on three felony charges: Murder, Felon in Possession of a Firearm, and Unlawful Use of a Weapon.
At his arraignment, McGinnis learned that he'd face all three charges, and he remains lodged at MCDC without bail.
---
Matt Ruff, known as "Matt Ruff, The Ringer: 2-Bit Rings", from the Confederated Tribes of Siletz, turns quarters into finger rings – on the spot. (Photo by David F. Ashton)
'Native American Market' flourishes in Southeast Portland
By DAVID F. ASHTON
for THE BEE
For the fifth consecutive year, the Saturday after Thanksgiving Day marked the "Native American Marketplace", hosted by Portland Parks & Recreation (PP&R) at the Mt. Scott Community Center, at S.E. 72nd and Harold Street.
The large meeting room was filled with tables – some of them spilled out into the adjoining hallways, on November 25 – all laden with crafts for sale.
"We've almost doubled the number of vendors that we've had in the past, and unfortunately we've even had to turn a couple away," reported the coordinator – who is also the PP&R administrator and staff to the Native American Community Advisory Council – Cheryl Juber.
"This market helps our vendors make connections with the community, as well as sell their crafts," Juber said. "And, it's great to see the community turn out and do some Holiday shopping here, giving support to these crafters."
In addition to hosting the marketplace, Juber said, the annual marketplace is also an important outreach for the Parks Bureau to the Native American community. "We let them know that we have great facilities, and great opportunities for the whole family."
The vendor fees from the marketplace go to support the "Bow & Arrow Archery Club", which sponsors the Delta Park Powwow on Father's Day weekend each year, Juber commented.
It was clear that, with thirty tables set out with merchandise of all kinds, this gathering had turned into a marketplace in the truest sense. If you missed it, look for it Thanksgiving weekend next year.
---
A PPB Traffic Division officer gives one of the involved drivers a Field Sobriety Test at the scene of this crash. (Photo by David F. Ashton)
'Impaired driver' cited for Duke Street wreck injuring three
By DAVID F. ASHTON
For THE BEE
A traffic accident at S.E. 72nd Avenue and Duke Street at 5 p.m. on Friday, November 17, sent three people to the hospital – and brought seven Portland Police Bureau (PPB) units to the area.
At the scene, a copper-colored Scion XB and a red Ford Windstar minivan had run headlong into the curb at the northeast corner of the intersection.
Not clearly visible in the wreckage was mangled bicycle, ridden by a victim struck down in the crash. Neighbors said they believed that the Scion went through the intersection on a red light when the bicyclist was hit.
Portland Police spokesman Sgt. Chris Burley later told THE BEE, "Three people were transported by ambulance to area hospitals with non-life-threatening injuries; the driver of the Scion was cited for DUII."
---
Volunteers from "Mountain Wave Search and Rescue" were called in to search for the missing Sellwood man on Thanksgiving Eve. (Photo by David F. Ashton)
Sellwood man wanders off Thanksgiving Eve; found safe
By DAVID F. ASHTON
For THE BEE
While a Sellwood family on S.E. Lexington Street was preparing for their Thanksgiving on the evening of November 22, they realized one of their family members, 61-year-old Ronald J. Aune, hadn't returned from his late afternoon walk.
A dozen squad cars responded and Central Precinct police officers began searching the neighboring yards and neighborhood streets at about 6 p.m. that evening looking for Aune, said to be an avid walker, but unable to find his way home in the dark.
As officers performed additional searches and alerted TriMet, they called upon Multnomah County Search and Rescue to continue the search for the missing man.
Thanksgiving Day dawned with no sign of him – but, at 10:42 a.m., "East Precinct officers responded to perform a welfare check on a man wandering in the area of S.E. 60th Avenue and Belmont Street," later reported Portland Police spokesman Sergeant Christopher Burley.
"The officers recognized the person as the Sellwood missing man; and, once located, Aune did not require medical attention," Burley told THE BEE. "He was reunited with his family for Thanksgiving."
---
On the last day of the season of the Learning Gardens Laboratory's Farm Stand, Coordinator and Garden Educator Emma Pesis tempts buyers with the final produce of the season.
'Harvest Fest' signals end of season at Learning Garden Lab
By DAVID F. ASHTON
For THE BEE
Those involved at the Portland State University "Learning Gardens Laboratory", across the street from Lane Middle School in the Brentwood-Darlington neighborhood, held a Harvest Festival on October 18th to celebrate the year, as the growing season was coming to an end.
"Today is also the last day of our garden's weekly Farm Stand," remarked the organization's Lab Events and Fundraising Coordinator, Chanel Hason.
"We celebrate our community involvement and engagement," Hason said. "So, we're providing pumpkin-painting activities, and we have flower-bundle-making for both kids and adults. It's good, interactive fun – to bring the community together here, at the Learning Gardens Laboratory."
In addition to the activities inside a greenhouse building and at the Farm Stand, representatives of the Brentwood-Darlington Neighborhood Association took the opportunity to speak with area residents, as well as other vendors.
The location is 6801 S.E. 60th Avenue, across from Brentwood Park between Duke and Flavel.
---
This busy Southeast Portland State Highway was closed while police investigated an accident between this motor scooter, propped up at the curb, and a minivan. (Photo by David F. Ashton)
Scooter rider collides with minivan on 82nd
By DAVID F. ASHTON
For THE BEE
Traffic northbound on S.E. 82nd Avenue of Roses came to a standstill just before 6 p.m. on November 16, when a motor scooter collided with a minivan.
"It looked to me like the motor scooter drove [east] – either on S.E. Duke Street, or out of the Plaid Pantry parking lot – and into the side of the passing car," remarked witness Mike Mason, who pointed out there was no visible front end damage to the Dodge Caravan to suggest it had hit the scooter.
The paramedics riding Portland Fire & Rescue Lents Station Engine 11 arrived, and began a medical assessment of the downed motor scooter rider.
The Dodge Caravan's passenger-side front fender was bent in; the wheel and tire behind it were damaged, but not to the extent that the minivan couldn't be eventually driven out of the street, and into a nearby parking lot, later to be towed away.
While at the scene, it was said that the motor scooter driver had been transported via ambulance to a local hospital with "serious" injuries – but later, Portland Police spokesman Sgt. Chris Burley assured THE BEE, "The scooter operator suffered non-life-threatening injuries."
Burley added, "The driver of the vehicle was cited for a 'Driving While Suspended' violation." Apparently, no other citations were issued in the accident to either driver.
---
Volunteers from Multnomah County Master Gardeners, turning out for the work party, pause for a team photo while laying out paths in the new Annex Garden. (Photo by David F. Ashton)
Southeast Master Gardeners' Annex Garden ready for winter
By DAVID F. ASHTON
For THE BEE
Those who have visited the Learning Garden Laboratory in the Bentwood-Darlington neighborhood, across S.E. 60th Avenue from Lane Middle School, have most likely noticed the Multnomah County Master Gardeners Demonstration Garden that shares the property.
Although a portion is dedicated to schools for teaching, on the 12½ acre site, Portland Parks & Recreation (PP&R) owns a large C-shaped section on the outside, including the area used by the Demonstration Garden.
To expand their programs, the Multnomah County Master Gardeners looked to create a larger garden, and made their first application to PP&R almost 2½ years ago – according to the Annex Garden Project Manager, Peter Jacobsen.
"The Annex will be important for the community because we teach classes here; the Parks Bureau is eager for us provide educational opportunities in this space," Jacobsen told THE BEE at a "work Party" held not long ago. "Here in this new, larger space, we can demonstrate all different kinds of approaches to gardening, which makes it much easier to help people learn, instead of pointing to diagrams and talking."
When the Master Gardeners started the project – after receiving PP&R approval this spring – volunteers worked to transform a rocky and weedy field into a beautiful garden.
"Our current Demonstration Garden is all about vegetable gardening," Jacobsen said. "The Annex will feature a mix of vegetable gardening, with some raised beds, and an ornamental garden with lots of native plants. And, there will be a 'Xeriscape' area, designed to requiring little or no irrigation or other maintenance, to demonstrate different approaches to gardening."
One of the group's major accomplishments over the summer was a "large-scale plumbing day", made possible with a grant from East Multnomah Soil & Water Conservation District. On that day, they trenched and installed 760 feet of pipe with 135 connections and six hose bibs. "I call it a success, because when tested, there were no leaks!"
About the progress on the Annex, Jacobsen commented, "Seeing the paths laid out, after staring at the chart for 18 months, I'm excited."
If you're interested in learning more about the Southeast Portland Master Gardeners, go online: http://www.multnomahmastergardeners.org.
---
Woodstock residents Gina Easley and Brian Jenkins say they enjoy volunteering at the hidden, beautiful park in Ardenwald. (Photo by David F. Ashton)
'Friends of Tideman-Johnson Park' celebrates 10 years of service
By DAVID F. ASHTON
For THE BEE
Many neighbors who enter the Springwater Corridor Trail through Tideman Johnson Park, going south on S.E. 37th Avenue passing Tenino Street, may not know they aren't in the Eastmoreland neighborhood.
"That's correct; south of Crystal Springs Boulevard, we're in the Ardenwald-Johnson Creek Neighborhood Association (AJC) area," said a long-time resident who lives on the bluff overlooking the park, Marianne Colgrove.
Ten years ago, Colgrove and Lisa Gunion-Rinker helped start "Friends of Tideman Johnson Park", a volunteer stewardship group dedicated to taking care of the park – considered by many a hidden gem in Inner Southeast Portland.
"It was AJC that originally wrote the 'Community Watershed Stewardship Grant' that helped us start this group, to help take care of the park; and we've partnered with Portland Parks & Recreation and the Johnson Creek Watershed Council," Colgrove said, taking a break from pulling invasive plans during their November once-a-month Saturday morning work party.
"One of our milestones is that we used to have English Ivy swinging from the trees! But now, it's quite hard to find, because we've eradicated most of it," Colgrove told THE BEE. "And, we have planted thousands of native plants, filling in all of the layers from groundcover, to middle height, to tree size – which, in turn, is creating a thriving ecosystem for wildlife, and the cleaning water that is flowing here into Johnson Creek."
"Living live close to the park, near Johnson Creek, I feel lucky; it is near and dear to me, and I really want to keep finding ways to help take care of it," Colgrove smiled.
That mission is not yet been fulfilled, she said. "It's a work in progress, but I can look around and see visible signs of our positive impact everywhere."
Friends of Tideman Johnson Park again hosted a "work party" on December 2, and then will take January off, and return on the first Saturdays of each month from February until summer.
Learn more about the group online: http://www.ardenwald.org/committees/fotjp.
---
---
Comments? News tips? Click here to e-mail us!

Note to readers: At some point, this, our original Internet website, will be replaced at this web address by our new website, as part of the Community Newspapers group. At that time, you will still be able to access this older, but still operative, website, if you save this address: www.southeastPDXnews.com. Right now, it leads you to our new website. Eventually, it will lead you back to this old one! Both will be up to date and current, and you'll still have your choice of which one to visit!

READY TO MOVE ON TO THE EDITORIAL, AND THE "LETTERS TO THE EDITOR", ON PAGE 3? CLICK HERE!